Economic Report: Sunny Times for the Rocky Mountain Front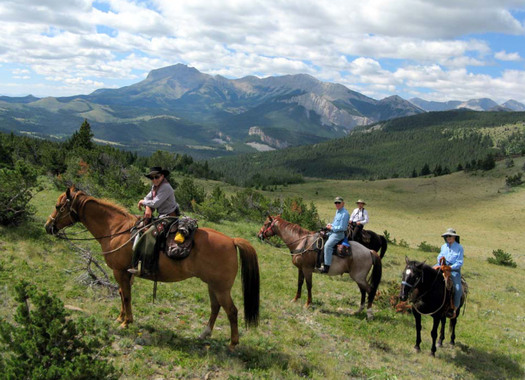 PHOTO: Horseback riding along the Rocky Mountain Front. Courtesy of Headwaters Economics.
September 20, 2012
HELENA, Mont. - Public lands are an asset and an investment for the future in Lewis and Clark, Cascade and Teton counties. That's one of the conclusions of a new economic report on the Rocky Mountain Front region that was presented Wednesday to the Helena Chamber of Commerce.

Headwaters Economics policy director Chris Mehl, who prepared the results, says the region has seen slow and steady growth and has potential for much more across all sectors if natural assets - such as public lands - are leveraged.

"So, everything from health care and technology and services to also agriculture - to things like hunting and fishing and the outdoor-recreation economy."

Mehl says public lands on the Front are connected to more than 10,000 tourism and recreation jobs - jobs that mostly stayed intact even through the recession.

"Kind of a remarkable event, that while other things were dropping and falling, out-of-staters were still coming to hunt on the Rocky Mountain Front, whether for birds or for elk. And in total, about $10 million a year is pumped into the economy along the Front."

The Rocky Mountain Front Heritage Act has seen controversy, with opposition coming from some environmental and recreation interests. Mehl says he sees a lot of common ground in the legislation.

"It keeps the good things in, but I think it's also going to also make it available for the next generation. These lands are an attractant. People like them if they already live here for quality of life, or they like to visit them if they're coming to see us from Minnesota or New Mexico or somewhere else."

The Coalition to Protect the Rocky Mountain Front paid for the report. The group supports the Rocky Mountain Front Heritage Act, which was introduced a year ago by Sen. Max Baucus, D-Mont.

The full report is online at headwaterseconomics.org.
Deborah Courson Smith/Deb Courson Smith, Public News Service - MT