Hungry on Thanksgiving in Missouri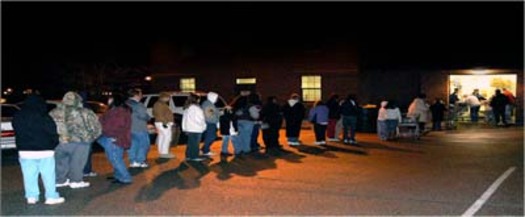 photo of food pantry line Courtesy of: Sts. Joachim and Ann Care Service
November 20, 2012
ST. CHARLES, Mo. - Every year, just before the holidays, attention turns to those who find it hard to celebrate because they've fallen on hard times.

Marian Mahan, the director of Saints Joachim and Ann Care Service, has been helping homeless and hungry Missourians for about 30 years and says her agency appreciates the attention. However, she says she does not appreciate it when those who need help become fodder for political pundits.

Mahan invites anyone who might think that poor people are "lazy" to spend time volunteering at her agency.

"To see a child living in the car with his mom and two other brothers, in the parking lot right across the door from the school: We see it all the time."

Mahan says she's happy that charities like hers get donations and free turkeys to help out. But they can't do it alone, and she's afraid with federal nutrition programs like food stamps facing billions of dollars in cuts, it could become impossible for agencies like hers to help Missourians to get back on their feet.

About 16 percent of Missouri households are considered food-insecure, meaning that they don't always have enough food to feed every person in the family.

Jeanette Mott Oxford, who heads the Missouri Association for Social Welfare, is also concerned about proposed cuts to the food stamp program. She says the organization "Bread for the World" crunched the numbers and found that food pantries and churches would be swamped.

"Every congregation in the United States would have to raise an extra $50,000 a year to make up for that loss in federal benefits."

Mott Oxford says her father lived on a very small Social Security check in the last years of his life. It was too much for him to qualify for food stamps, but not enough for him to buy food all month. And she says his situation is not that unusual.

"So, if you know someone living alone near you, it might be a good time to open your heart to have them in your home for Thanksgiving."

A recent poll by the Food Research and Action Center found many Americans sharing Oxford's concern. Most oppose cuts to food stamps and think the government should do more to address the problem of hunger.

See the poll at frac.org.

More information is at bit.ly/PkidEC.


Mary Anne Meyers, Public News Service - MO