Ohio Kids Learn to Lose Their Training Wheels in 5 Days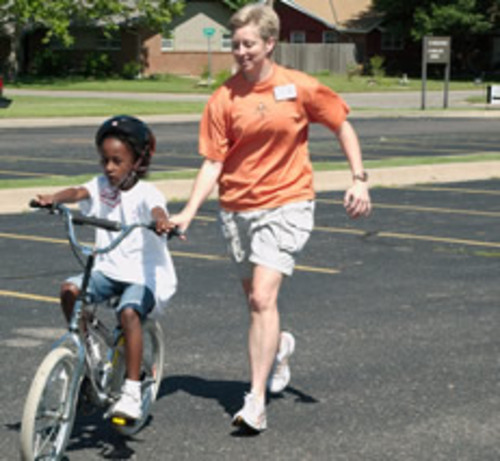 image:lose the wheels
July 30, 2012
COLUMBUS, Ohio - Some children with special needs in Ohio are learning how to quickly ditch their training wheels and enjoy riding a bicycle on their own. At the Lose the Training Wheels camp, which kicks off in Akron today, children will learn the seemingly impossible task of independently riding a bike in less than a week.

The Greater Akron Office of the Autism Society of Ohio is sponsoring the program. Director Laurie Kramer says they use an adapted device that has what looks like a rolling pin on the back wheel.

"The kids are riding around on the bike just like they own it, but it has a rolling pin on the back wheel, and that pin just keeps getting smaller and smaller. Eventually, they just pop it right off without even telling the kid and put on a wheel, and they're riding."

The camp is for children with any type of special need, who may have difficulty with gross motor skills. Kramer says they have an 85 percent success rate, with most children riding independently within just three days.

For people with disablities and their families, the camp is a life changer, Kramer says. She knows because her own son has been through the program.

"These are children who are challenged in so many ways. I've been working for two years on trying to teaching my son how to shower himself, and he learned to ride a bike in one week. That's as close to a miracle as I'm going to see."

During the camp, many children learn independence and confidence that extends to other aspects of their lives, Kramer adds.

"They think, 'I can go out and ride a bike with my peers and enjoy things just like every other kid does.' For kids that have these challenges, that's what makes this such a great program."

This is the first time the camp has been run in Akron. Similar events have been hosted in Cincinnati, Cleveland and Toledo.

More information on the camp is available at www.losethetrainingwheels.org.