What We Do
Since 1996, Public News Service has pioneered a model of member-supported journalism to engage, educate and advocate for the public interest. By combining legacy and new media, we reach audiences across geographic and political divides.
Currently, tens of thousands of media outlets receive our content and more than 6,000 nationally are regularly using our stories.
Our members are organizations – NGOs, Foundations and Social Enterprises – and individuals that help "fund a beat," covering critical issues that receive too little coverage, lifting up often marginalized voices and making greater journalistic breadth available to broadcasters and publishers on any platform.
Public News Service is a small family operated company owned by founder Lark Corbeil (CEO and majority owner) and David Crandall (COO). Founded in 1996 as an S Corporation, PNS is B Corps and GIIRS certified.
How We Do It
Currently, Public News Service manages independent news services in 37 states, reaching a daily audience of 30-50 million. On a day-to-day basis we link with hundreds of grassroots organizations who keep us informed on a cross-cutting range of social justice, environmental and economic issues.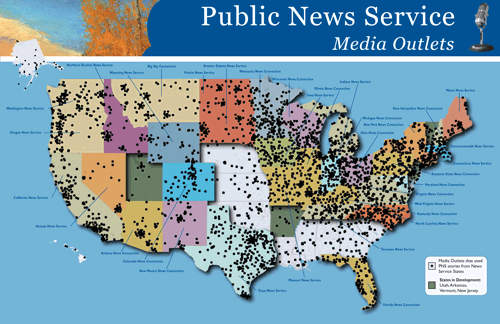 Community
We're a national news service with local impact. Our journalists are on the ground, and welcome your help and input. Click here to find the producer in your area.
Privacy Policy
Public News Service operates a website, found at www.publicnewsservice.org; operates several social media accounts; delivers news and other content via email; and makes the same or similar content available to mobile users. Our Privacy Policy applies when you use any of these Services. It describes the kinds of information we may gather when you use the Services, how we use your information, when we might disclose your information, and how you can manage your information.
By visiting and/or subscribing to Public News Service, you are accepting the practices described in our Privacy Policy, including our use of cookies and similar online tools. If you do not agree to the terms of this Privacy Policy, please do not use our Services.
What information do we gather about you?
The information we gather falls into two categories: Non-identifying tracking information collected as you navigate through our site, and personal information you voluntarily supply when you subscribe, contribute, complete a survey, or provide your email address.
Log Data
When you visit our website, our servers may automatically log the standard data provided by your web browser. This data is considered "non-identifying information," as it does not personally identify you on its own. It may include your computer's Internet Protocol (IP) address, your browser type and version, the pages you visit, the time and date of your visit, the time spent on each page, and other details. This information is used for internal purposes only.
Personal Information
If you choose to subscribe, Public News Service will send you a daily email of stories. This data is considered "identifying information," as it can personally identify you. We request personal information relevant to providing you with our email newsletters, and only use it to help provide or improve this service. This is a voluntary service we offer — you are not required to provide your email address or sign up for our email newsletters.
Public News Service complies fully with the federal CAN-SPAM Act of 2003. We will not share, sell, rent, swap or authorize any third party to use your email address. If you feel you have received an email from us in error, please contact info@publicnewsservice.org
Our policy does not apply to websites maintained by other companies or organizations to which we may link or who may link to us. We are not responsible for the actions and privacy policies of third party websites.
Voluntary Information for Donations
Contributing to fund our work is a voluntary action and no user is required to provide this information to navigate the Public News Service site and content. You are not required to submit personal information to use this site, but if you choose to make a donation to Public News Service, we will request the following information in order to process your payment:
Cardholder Name
Credit Card number, expiration date and CVC code
Billing address, including ZIP code
Email address
Phone number (optional)
None of your personal financial data, including credit card numbers and other identifying information, is housed on Public News Service's servers, nor is it retained or re-sold for commercial use. Records are maintained through third-party point-of-sale systems (PayPal) to enable recurring donations when authorized by you, the user, and to contact you should an issue arise with payment. Recurring donations can be cancelled at any time by emailing info@publicnewsservice.org.
How we collect information
Cookies
As is standard practice on many websites, Public News Service uses "cookies" and other technologies for legitimate interests to recognize you to help us understand which parts of our website are the most popular, where our visitors are going and how much time they spend there. We use Google analytics to do some of this collection. We reserve the right to change the vendors who provide us with usage data.
Use of information
We may use a combination of identifying and non-identifying information to understand who our visitors are, how they use our services, and how we may improve their experience of our website in future. We use the IP address log in an aggregate fashion to track access to, and analyze usage of, our site.
Public News Service will not sell, rent, swap or authorize any third party to use your email address without your permission. You can unsubscribe to our emails at any time.
What do we do with the information we gather about you?
PNS may collect personal information from our users in connection with voluntarily visiting our site. Data may be collected on our website, on the phone, or via email. Readers are primarily contacted via email, with daily news updates, but may occasionally be contacted by telephone or mail. All survey data is reported and/or used in aggregate form only, and no personally identifiable information is released.
Statistical Analysis
Public News Service may perform statistical, demographic and marketing analyses of subscribers.
Email & Newsletters
If you provide your email address as a donor or subscriber, Public News Service will send you daily email news stories if you request. PNS reserves the right to send you occasional promotional emails, fundraising campaigns and occasional events or development related to our work. You may opt out of these emails at any time. If you feel you have received an email from us in error, or want to unsubscribe at any time, please contact info@publicnewsservice.org.
Account and Service-Related Email
Public News Service reserves the right to send you email relating to your account status. This includes alerts, confirmations, notices of account problems, other transactional emails and notifications about major changes to our website and/or to our Privacy Policy. If you would like to stop all communications from PNS, please email info [at] publicnewsservice.org with your name, address, and any specific information to help us identify what you want and do not want. If you have registered for online discussions or other services, you may receive email specific to your participation in those activities.
Survey Email
We may send you an email inviting you to participate in user surveys. User surveys greatly help us to improve our website and any information we obtain in such surveys will not be shared with third parties.
Emails From You
If you send us email, you should be aware that information disclosed in email may not be secure or encrypted and thus may be available to others. We suggest that you exercise caution when deciding to disclose any personal or confidential information via email. Please do not send credit card information via email. This is better conveyed via a secure form on our website or over the phone to our Customer Service representatives. We will use your email address to respond directly to your questions or comments.
Data Security
We use reasonable precautions to protect our users' personal information (e.g. addresses and emails) and to store it securely.
Although we take appropriate measures to safeguard your information, we cannot guarantee its absolute security. To further protect your data, we recommend that you use complex passwords for your accounts with us and for accounts with third parties that you link to any of your accounts with us. Please do not use the same passwords you use for your account with us for other services or share your password with unauthorized people. If you have reason to believe that your interaction with us is no longer secure, please immediately notify us in accordance with the "Contact Us" section below.
Financial Information
Public News Service does not collect or store financial information (e.g. credit card numbers) from our website since we process transactions through PayPal. PNS reserves the right to change vendors.
Users in the EEA and Switzerland
If you are a resident of the EEA or Switzerland, the following information applies with respect to personal data collected through your use of our Services.
Purposes of processing and legal basis for processing: We process personal data consistent with our disclosures in this Privacy Policy. We process personal data on the following legal bases: (1) with your consent; (2) as necessary to perform our agreement to provide Services (such as when you become a Subscriber); and (3) as necessary for our legitimate interests in providing the Services where those interests do not override your fundamental rights and freedoms related to data privacy.
Transfers: Personal data we collect may be transferred to, and stored and processed in, the United States or any other country in which we or our affiliates or processors maintain facilities. We will ensure that transfers of personal data to a third country or an international organization are subject to appropriate safeguards.
Your Rights: You are entitled to the rights under Chapter III of the EU General Data Protection Regulation or Section 2 of the Swiss Federal Act on Data Protection with respect to the processing of your personal data, which include the right to access and correct and to request erasure of personal data. To exercise these rights, contact info@publicnewsservice.org and provide as complete a description of your request as possible.
Children Under 18
We do not intentionally collect any personally identifiable information from individuals under the age of 18, and we will make every effort to delete any details of such users where a parent or guardian has informed us that these details have been collected.
Who We Are: Contact Us
Public News Service
3980 Broadway Suite 103 Box 139
Boulder, CO 80304
Phone: 303.448.9105
Email:
info@publicnewsservice.or
For help, email: info [at] publicnewsservice.org
Changes to This Policy
This Privacy Policy may be amended from time to time. Any such changes will be posted on this page so you should check here from time to time.
---
Contact us to learn more about membership, and support coverage of the issues that are important to you.
P.S. Learn about our sister nonprofit Media in the Public Interest, and our native advertising platform, SoundBite Services.