Utah Families Mark CHIP Anniversary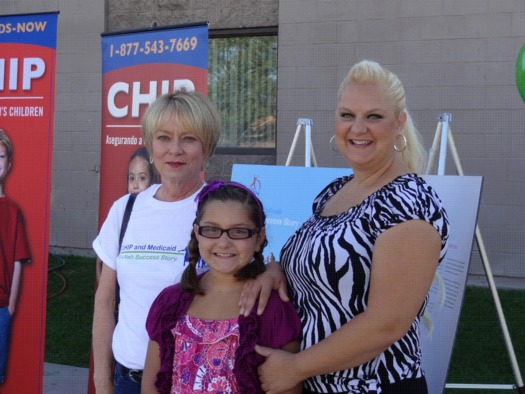 Joy Pizzuto (R) and her daughter Annabella agreed to be part of the story collection. They are seen here with Karen Crompton (L), president and CEO, Voices for Utah Children.

August 3, 2012
MURRAY, Utah – This weekend is the 15th anniversary of CHIP, the Children's Health Insurance Program that offers medical coverage to kids in low-income families. But in Utah, as many as 70,000 children who are eligible are not signed up.

Barbara Munoz, health policy associate with Voices for Utah Children, says her group is trying to change that by publicizing the stories of families around the state who are recipients of CHIP and Medicaid assistance. Munoz says the state health department sought volunteers who would discuss their real-life experiences with the programs.

"They were different circumstances - parents had lost jobs, illnesses in the family, some extraordinary emergency circumstances. But the main thing that they all had in common was, they really wanted to do the best thing for their kids by providing healthcare."

Voices for Utah Children collected the families' stories, which are available online or in print. The collection was introduced at a Thursday news conference in Murray.

Utah ranks 45th in the nation for its percentage of uninsured youngsters. Munoz says Medicaid and CHIP cover almost 200,000 Utah children, but another 107,000 remain uninsured. Two-thirds of them are likely eligible for CHIP coverage, although she knows some families are hesitant to ask about it.

"There is some stigma attached to receiving any kind of assistance. This is very unfortunate, primarily because so many of the families that are utilizing CHIP and Medicaid are hard-working, loving parents who just want their kids to have access to healthcare."

People can apply for CHIP or Medicaid coverage through the Utah Department of Workforce Services, at any of the offices or online. But not everyone knows what CHIP is or where to find out about it, says Munoz, so getting the word out is another priority.

"Schools, Community Health Clinics, day cares - remind parents that these programs are available. If they talk about not having access to healthcare, not being able to afford to take their child to a doctor, not being able to afford prescription medications, to remind them that these programs are there and available."

The group is also recommending ways to minimize the 'red tape' that can make it difficult to enroll, including removing the mandatory five-year waiting period for immigrant children, even when they are in the country legally.

See the story collection at utahchildren.org.

Chris Thomas, Public News Service - UT