Summer's Over? Hummingbird Banding Shows Migration Under Way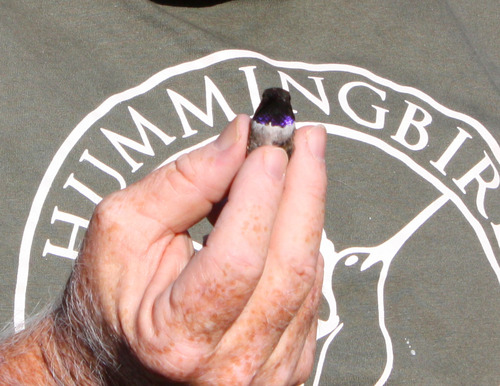 PHOTO: Fred Bassett, Hummingbird Research, Inc., holding a male, black-chinned hummingbird. Photo credit: Deborah Smith
August 14, 2012
PEARL, Idaho - It's hard to believe summer is coming to an end, but the birds know it. A hummingbird researcher who comes to Idaho each year to study birds has confirmed that migration is under way. Birds were caught and banded in Pearl, north of Boise, last weekend, and they've put on weight for their trips south.

Fred Bassett, founder of the conservation group Hummingbird Research, invited the public to see the banding process up close, and even hold the birds.

"Now, while we have the bird, I'm going to get some measurements from it. We're going to measure the length of its wing, tail and bill. He weighs 3.1 grams. And that weight, you can stuff nine of those in an envelope and mail 'em for a first-class stamp."

The leg-band numbers and bird measurements are reported to the National Bird Laboratory.

Sometimes, a bird is caught that's already been banded. That happened last weekend. It turns out that female black-chinned hummingbird was banded in St. George, Utah, on May 28 of this year. Two years ago, an already-banded bird caught in Idaho came from Louisiana.

Bassett says there are three main hummingbird species seen in Idaho: rufous, black-chinned, and calliope. Some of the birds banded are just a few weeks old, but he says they're already migrating.

When the bird in his hand gave voice, Bassett asked the audience . . .

"Is that the hummingbird making that noise? Yep. That's it. He's telling me, 'Thank you for the jewelry.'"

Bassett adds that some black-chinneds are nesting late this year. He explains it could be that they're raising a second brood, since many nests may have failed earlier this year because of the cold, wet spring.
Deborah Courson Smith/Deb Courson Smith, Public News Service - ID