MN's Furry Weapon in the Fight against Destructive Pest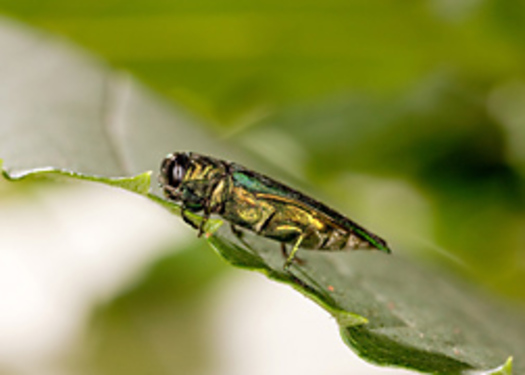 PHOTO: An emerald ash borer Photo credit: USDA
September 5, 2012
ST. PAUL, Minn. - With the state fair ended and cooler temperatures in the forecast, folks across Minnesota who will soon be rounding up firewood are being urged to "keep it local" to slow the spread of the emerald ash borer.

Transporting firewood is one of the ways the destructive beetle gets around, says Sharon Lucik, public affairs specialist at the U.S. Department of Agriculture's animal and plant health inspection service.

"Because the beetle itself - the larvae - is under the bark. So, when people look at their firewood they'll think, 'Hey, it's OK, no problem.' What they need to understand is there may be a hidden hitchhiker."

Lucik says they'd like it if everyone bought or cut their firewood locally. In those counties where the beetle has been detected, she says, transporting wood out is prohibited.

"With four counties that are quarantined - those folks in Ramsey, Hennepin, Houston and Winona (counties) - they can't move firewood out of that county. So, keep firewood close to home and buy local."

Lucik says the entire ash tree population in Minnesota and across the nation could be decimated.

"That's our big concern. The emerald ash borer beetle kills healthy trees and even trees in decline, and the big picture is the entire ash tree species across North America is in jeopardy."

It's thought that the emerald ash borer first arrived on U.S. soil sometime in the 1990s. The USDA says the beetle has since killed tens of millions of trees across North America.

On Thursday, state officials will show off the detection dogs they'll use in their efforts to root out ash trees that are infested. The dogs are almost done with their training, which began in April. The emerald ash borer was first spotted in Minnesota in 2009.

More information is online at mda.state.mn.us and at emeraldashborer.info.