Brewing Texas Battle: Will Gulf Oil Spill Fines be Used for Pork?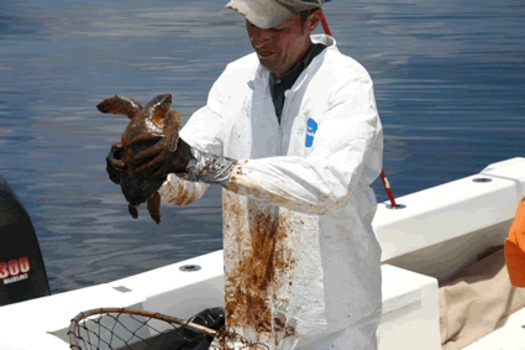 PHOTO: Oiled turtle is recovered from Gulf of Mexico by NOAA Scientist following the 2010 spill. Courtesy of NOAA.
October 4, 2012
AUSTIN, Texas - Two and a half years after British Petroleum's Deepwater Horizon oil rig exploded, spewing 5 million barrels of crude into the Gulf of Mexico, a battle is brewing over how the B.P. fines will eventually be spent. The company is likely to pay out anywhere from $5 billion to $21 billion under the RESTORE Act, which was signed into law by President Obama this summer. The National Wildlife Federation recently polled sportsmen across the nation - most of whom identified themselves as conservative - and found that 87 percent want the B.P. fines used primarily for habitat restoration.

Susan Kaderka, who directs the National Wildlife Federation's South Central office, worries that politics-as-usual may divert the money from where it's needed most.

"You know, whenever there's a lot of money available, there are a lot of parties who are interested in how that money gets spent. So there will be a lot of competition for funds under the RESTORE Act."

The legislation mandates that 80 percent of B.P. penalties be used specifically for Gulf recovery, instead of deposited into the general treasury - the typical fate of fines collected under the Clean Water Act. Because RESTORE says the money should be used for both ecological and economic needs, a wide range of recovery projects are eligible for potential funding - including infrastructure like roads, bridges and new convention centers, which critics are calling "pork."

Each affected state will be given significant leeway in how it spends its share of the money. As the Perry administration begins to craft the Texas approach, conservationists like Kaderka are pushing the Republican governor to prioritize ecological restoration. She wants him to keep in mind that many of his traditionally conservative constituencies - such as hunters and anglers - won't appreciate the money being diverted elsewhere.

"Sportsmen care about - and are paying attention to - how these funds are used. Hunting and fishing are kind of a way of life, and they want to make sure the natural resources are there to support those kinds of activities. This is an opportunity to make a major investment in that."

Meanwhile, there are signs the spill is still not over. Hurricane Isaac unsettled some of the remaining oil, forcing an area of the Louisiana coastline to shut down. And last month, the government began tracking a fresh "mystery sheen" that some experts say is coming from fissures in the plugged well.

Poll results are available at National Wildlife Federation. NOAA tracking of the new sheen is at www.incidentnews.gov.