Sierra Club Takes Military Families on Organ Mountains Trip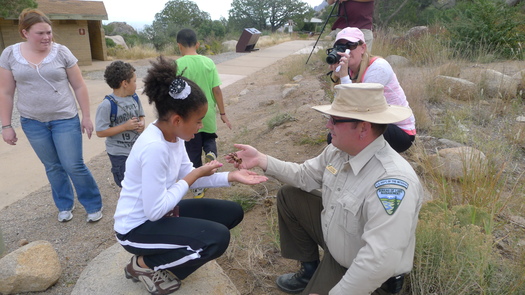 PHOTO: Krista Stoot looks at a tarantula held by a park ranger while Julia Armstrong focuses camera at Aguirre Springs Campground. Photo credit: Eliza Kretzmann.
October 25, 2012
LAS CRUCES, N.M. – The Sierra Club's Mission Outdoors program introduced the Organ Mountains-Desert Peaks region to New Mexico military families this month as part of its effort to offer them an opportunity to enjoy the outdoor treasures they have in their own backyard.

Stacy Bare, director of the program, returned from service in Iraq in 2007 and says the outdoors has been a big part of his personal healing.

"It was ultimately the outdoors and rock climbing that helped me begin to, one, recognize that I had some mental-health issues that needed healing, and two, gave me the environment where it was a safe place to do it."

In addition to healing, the Sierra Club says, the Organ Mountains-Desert Peaks area in south central New Mexico safeguards important natural assets and cultural landmarks. The region supports a high quality of life and sits atop many "best places" lists. As a result, people and new businesses are moving to Doña Ana County, which has seen some of the fastest economic growth in the state, creating almost 14,000 new jobs and an 18.4 percent increase in employment in the past decade.

Bare says the outing attracted a good turnout and provided military families with much of the same camaraderie and sense of mission and purpose that one might experience in the military – but in a more relaxed and engaging setting.

"The conversations that people have on the trail and the trust that they build with one another happens a lot more quickly outside than it would inside. I think all those things help to reconnect family. But in the outdoors, you get to see that interaction one-on-one."

When it comes to the Organ Mountains-Desert Peaks area, Bare says, he hadn't spent much time there in the past. Now that he has, though, he calls it a "hidden jewel."

"It's a place I think all Americans should put on their bucket list to go and visit. It's a place that we certainly want to keep available for exploration, for people to walk around and spend time in those majestic spires for the next 100 generations."