Operation Broken Chain comes to Tennessee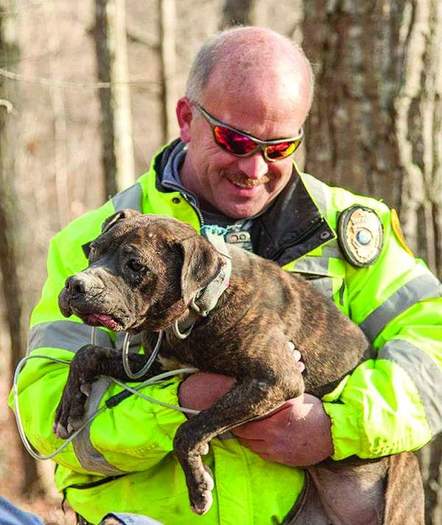 Cheatham County Animal Control Director TJ Jordi rescues one of the dogs. Credit Amiee Stubbs/Animal Rescue Corps
November 29, 2012
NASHVILLE, Tenn. - Animal Rescue Corps volunteers say they were not prepared for the level of cruelty and abuse found in Cheatham County last weekend when local authorities happened upon a suspected dog-fighting operation after answering a rural brush-fire call.

Scotlund Haisley, president and founder of the rescue corps, says it's the worst he has seen in his 22-year career with the group. ARC now has the monumental task of medical assessments, evidence collection and sheltering the abused animals in what is being called Operation Broken Chain.

"This is still the very beginning of what's going to be a very long process. These dogs have been bred, conditioned and trained to fight."

Sixty-five dogs, mostly American pit bull terriers, were found with no food or water and tethered to stakes. All of the dogs required medical attention,

Haisley says dog fighting operations are sometimes easy to spot if people pay attention to the warning signs.

"If there are a large number of dogs on thick chains, a treadmill and certain other pieces of other paraphernalia on the property."

Haisley says large gatherings, loud barking and crowd cheering are signs of a possible dog-fighting operation. He says anyone suspecting any type of activity that involves the abuse of an animal should contact their local humane shelter or law enforcement. While some rural communities may ignore such calls, he said, concerned individuals should not stop contacting agencies to seek assistance in helping a potentially abused animal.

Haisley says the biggest need now is supplies, straw, gift cards to purchase items needed from day to day and food both for the dogs and the volunteers who are assisting with care of the abused animals. Haisley says he expects expenses to exceed $20,000, and ARC is asking the public to help so that these dogs will have another chance at life.

For more details, visit or the Animal Rescue Corps page on Facebook.