"Fighting for Scraps" - Great Lakes Automatic Budget Cuts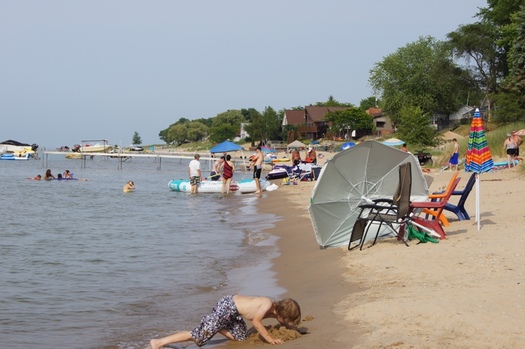 Millions of people flock to Michigan beaches in the summer. Recent cuts to environmental cleanup could threaten the quality of those beaches.
March 19, 2013
LANSING, Mich. - Great Lakes advocates from Michigan and seven other states are just back from Washington, where they've been trying to convince Congress that automatic budget cuts will hurt the Lakes.

Cleaning up the Great Lakes is a huge project that is taking many years. Federal dollars are paying for such things as dredging to clean up toxic chemicals, stopping Asian carp from invading Lake Michigan, and monitoring bacteria in the water Michiganders swim in. But automatic budget cuts took $25 million from Great Lakes restoration.

According to Jeff Skelding, director of Heal Our Waters with the Great Lakes Coalition, that's $25 million the Lakes can't afford to lose.

"We are all competing for scraps," he declared. "To get the job done in the Great Lakes, when the plan came out in 2005, the price tag on that was $26 billion dollars. We are far, far away from having enough money to get the job done."

Skelding said delaying cleanup can be risky, especially because the Great Lakes are a source of drinking water for 30 million people.

But healthy water, Skelding said, is not all that's at stake.

"It's not just about cleaning up the water, it's also about making local economies more healthy," he remarked.

The coalition estimates that for every dollar spent on Great Lakes restoration, four dollars in economic activity is created through jobs, tourism and increased property values. For example, Skelding said, the dredging of toxic sediment continues to employ biologists, chemists, toxicologists, truck drivers and many others. And as waterfronts are redeveloped, lakeshore economies will continue to improve.

The people who traveled to Washington to lobby for the Lakes came from Illinois, New York, Pennsylvania, Ohio, Indiana, Wisconsin and Minnesota as well as Michigan.

Reports on restoration projects in various states are at bit.ly/WtLWR0 and at cida.usgs.gov.

Rob South, Public News Service - MI