WA Child Care Cuts Proposed for School-Age Kids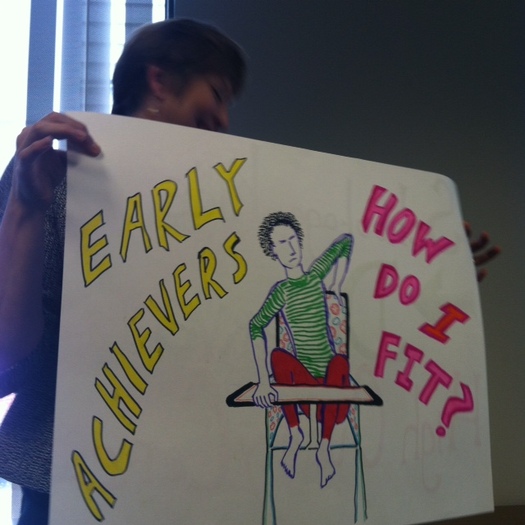 PHOTO: "How do I fit?" Providers of child care for school-age children say cutbacks proposed by the Department of Early Learning lump them in with infant and toddler programs and won't work. Courtesy of School's Out Washington.
May 15, 2013
MOSES LAKE, Wash. - Hearings were held this week in Kent and Moses Lake about proposed budget cuts that would affect training and support services for people who provide child care for school-age children. Many providers couldn't attend, however, since the Department of Early Learning (DEL) held the hearings during the busiest time of day for after-school programs.

Those who managed to show up voiced their dismay about the possible cuts.

The state says it needs more money to train child-care providers in programs for ages birth to 5 years. But Janet Schmidt, chief program and policy officer at School's Out Washington, said high-quality programs and more training are needed for children of all ages.

"Any gains that are made with the supports that are offered to those caring for kids ages 0 to 5, there is research that shows if that same investment is not made in the elementary years, all of those gains that they've made will be lost," she said.

Up to 10 jobs would also be lost - those of people who travel the state to train providers and assess the quality at some of the more than 500 licensed school-age child-care programs. Washington requires that these providers take a 20-hour basic course and then 10 hours of additional training a year.

The system has worked well, Schmidt said, adding that the cuts will especially affect rural areas, where providers would then have to go to Seattle for training.

"For those tiny little programs that don't have the resources that larger urban areas have," she said, "this training has provided them the access right at their program or within a tighter geographical area, to make sure that they're getting the continuing education that's required by the state of Washington."

One in four children in licensed child care is school age, Schmidt said, and training to improve those programs already has been in short supply.

The Department of Early Learning is accepting comments on the proposal through Monday. They can be emailed to DEL at CCDF2013@del.wa.gov.