High Stakes for Children in Immigration Reform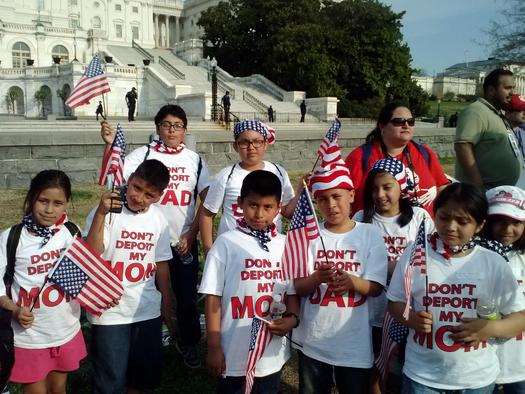 Photo: Children of immigrant families participate in immigration rally on Capitol Hill. Photo credit: First Focus
May 22, 2013
PHOENIX - An immigration reform package that got U.S. Senate committee approval on a bipartisan vote Tuesday night includes unprecedented protections for the children of immigrants.

Wendy Cervantes, vice president for immigration and child rights policy with the First Focus Campaign for Children, said one of the most important provisions would keep families from being torn apart and give parents who are detained or deported more of a say about what happens to their children.

"What's happening to those children is that they're either going back to their parents to a country they may have never known," she said, "or they're staying behind here with family members or friends."

About 5,000 children are in foster care in the United States because their parents have been detained or deported, Cervantes said.

The proposed Senate bill would make it much harder to terminate parental rights because of a person's immigration status. It also provides a pathway to citizenship for 11 million immigrants who are in the United States illegally, including about 360,000 in Arizona.

Arizona law prohibits unauthorized immigrant children from paying in-state college tuition. It's unclear whether work permits under President Obama's deferred-action program constitute lawful residence.

Promise Arizona director Petra Falcon said the comprehensive immigration reform bill now before the Senate should resolve the uncertainty.

"The CIR bill will give undocumented children provisional legal status," she said, "and it is that bill that should supersede the state law."

Drivers licenses have also been denied to deferred-action students by order of Gov. Jan Brewer, who says the work permits must be created by law, not a presidential executive order. Falcon says the immigration bill should also resolve that issue.

"Because this is actually law being passed by elected officials and members of Congress, and the President's executive order on DACA was different," she said. "So, that's the difference that we're dealing with here."

A full Senate vote is expected on the bill in June.

The Senate immigration-reform bill and amendments are online at judiciary.senate.gov.

Doug Ramsey, Public News Service - AZ