SNAP Shifts "Food Choices" from Gas Stations to Healthy Food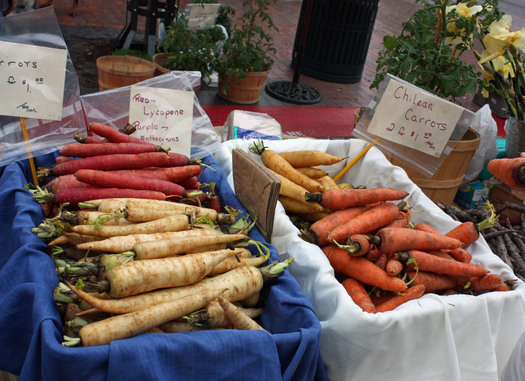 PHOTO: SNAP benefits are allowing Nevada families, hard hit by the recession, to purchase fresh and health fruits and vegetables at local farmers' markets instead of relying on the closest gas station. Photo credit: Deborah C. Smith
July 23, 2013
LAS VEGAS - Many rural Nevadans who don't have a nearby grocery store have to depend on local gas stations and convenience stores to redeem their SNAP benefits, but now farmers' markets are offering a healthy alternative choice to packaged products and junk food.

According to Kelly Nowack, SNAP outreach manager with the Food Bank of Northern Nevada, many younger families came here to make a living in the construction industry and are still struggling economically. The good news, she said, is that farmers' markets are now accepting SNAP benefits at several locations.

"Farmers' markets are sort of filling in that gap, so people can get healthy, fresh food at their local farmers' market with their SNAP benefits."

Last week the Republican-led U.S. House passed a reduced version of the national Farm Bill that did not include SNAP food assistance programs. Nowack remarked that any additional cuts in benefits would leave the Nevada families her organization works with unable to put food on the table.

Wendy Madson, manager of the nonprofit nursery Community Roots, said that with one Nevada family in five needing food assistance, those in the greatest need will now have a healthy choice because of farmers' markets.

"There's a huge need, especially in Silver Springs, because there's no real supermarket; we have a lot of families who unfortunately have access to gas station food with their EBTs (Electronic Benefit Transfer cards), so that's used a lot."

Linda Hoyen, who chairs the Silver State Co-op Association, said they wanted to ensure that local farmers had an incentive to participate.

"I will have a table there with EBT machines," she promised. "Everybody can use their Food Stamps with us, and then we give the farmer the cash back."

The Food Research and Action Center is working with local groups in Nevada and across the country to expand the use of Food Stamps for those qualified and in need.

More information is at FRAC.org.