Washington's Fall Harvest Could Really "Stink"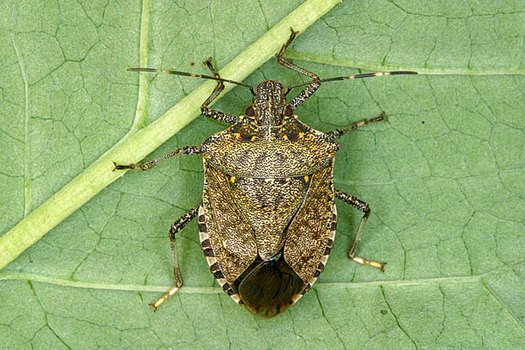 PHOTO: Organic farmers are finding few effective weapons for wiping out this year's bumper crop of stink bugs. Photo credit: http://njaes.rutgers.edu/
July 29, 2013
YAKIMA, Wash. - The stink bug invasion is on, from nuisance infestations in urban homes to potentially expensive problems for farmers. In Washington, brown marmorated stink bugs were a particular concern in the Yakima area last year - and they're back.

Washington State and Oregon State Universities are collaborating on a federally-funded stink bug study. OSU entomologist Peter Shearer said the smelly bugs seem to love grapes, hazelnuts and raspberries but will feed on many different crops.

"In raspberries this year, they were in from the get-go, so I suspect that there'll be some damage to the crops this year - and it's still early," said Shearer. "They only move into certain crops when they become more attractive, and that would be later on, for the grapes and the hazelnuts."

Stink bugs are so named for emitting a strong, distinctive odor as a defense against enemies. "Marmorated" means marbled, referring to their coloring. Shearer said both conventional and organic farmers are having a hard time controlling the pests.

Part of the study is a project to see if a microscopic wasp from China will feed on stink bug eggs, but the results are a couple of years away. And Shearer said there's a lot they still don't know about the stink bug.

"We're still trying to figure out ways to monitor it effectively, to determine what kinds of numbers we should be worried about when it shows up in an apple orchard or cherry orchard, or soybean field," he said. "It's going to take another three or five years, at least, before we get a really good handle on it."

Stink bugs were first reported back East a dozen years ago and have been a multimillion-dollar headache for farms and orchards there. Shearer added that not all stink bugs are bad, and they're trying to control the bad ones without eliminating the beneficial ones. He noted that the invasive stink bugs are typically found in clusters and large numbers.

Researchers want to know about brown marmorated stink bug sightings. They have asked anyone who sees the bug to notify them at bmsb@hort.oregonstate.edu.

Chris Thomas, Public News Service - WA