Critics: McAllen's Plan for Private Jail "Economically Wrong"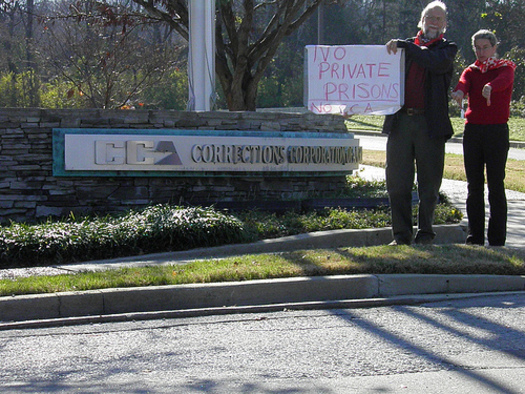 PHOTO: More than 50 advocacy groups have signed onto a letter in opposition to a plan by the City of McAllen to partner with a for-profit prison corporation for a new 1,000-bed facility. Photo credit: John S. Quarterman
September 11, 2013
McALLEN, Texas - The city of McAllen is hosting a public forum this afternoon on its plan for a private jail, a project facing ever-growing opposition.

Among those hoping McAllen will dump the plan is Ann Williams Cass, executive director of Proyecto Azteca. Cass said she believes it's morally wrong for people to profit off the incarceration of others, and that McAllen would be opening itself up to liability, as has happened in other cities and counties elsewhere.

"For-profit prison corporations have had a terrible track record, and it will cost the taxpayers money in the future," she said. "I have lived in McAllen for 33 years. I like the vision that McAllen has, and putting in a private prison is really inconsistent with that vision."

The proposal calls for a 1,000-bed jail for inmates awaiting hearings at the federal courthouse in McAllen. Supporters say it could help solve the inmate transport backlog, create jobs and generate a deal worth up to $2 million a year for the city. But Cass said a private prison would impede better forms of economic growth and could even lead to net damage.

"It will be a doughnut hole wherever they put it," she said. "No one's going to want to develop businesses or houses around a prison, even though they claim they're going to put it in an industrial-zone area. They pay mostly minimum wage, so they drive wages down, actually."

Another serious concern, Cass said, is that the prison would hold mostly undocumented immigrants, all serving six-month sentences for crossing the border without inspection.

A letter in opposition to McAllen's private jail project has been signed by more than 50 advocacy groups, including the Rio Grande Valley Equal Voice Network.

The forum starts at 5:30 p.m. today at McAllen City Hall. More details are online at documentcloud.org.