Bringing Breast Cancer Information to Wisconsin's Native Americans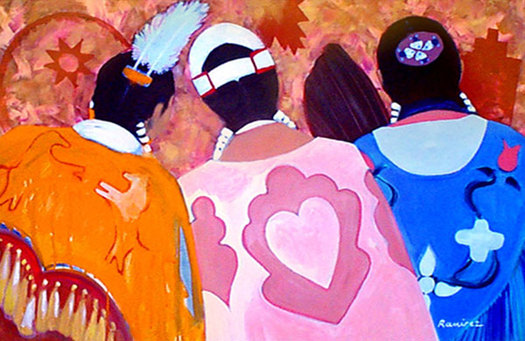 This art work symbolizes the Wisconsin Inter-Tribal Pink Shawl Initiative, a new program to bring breast cancer information to the state's American Indian women.
October 7, 2013
NEW BERLIN, Wis. - Breast cancer survivor Carol Cameron, a member of the White Earth Ojibwa Tribe, wants to do something to change the fact that Native American women have the second-lowest five-year breast cancer survival rate of any ethnic group. Thanks to an American Cancer Society grant made possible by Kohls Cares, Cameron and her friends put together the Wisconsin Inter-Tribal Pink Shawl Initiative.

"We're trying to get around to all the tribes throughout the state and talk with communities at large. We do not charge the tribes anything for us to come out and present the information, and hopefully we influence them in regard to getting out, getting those screenings and being healthier communities," Cameron said.

The main message, she said, is to observe good breast health habits, adopt a healthy lifestyle, do self-exams and get regular breast cancer screenings. No one was targeting breast cancer information specifically to Native American women, she added.

"When I was first diagnosed and I was sitting in the waiting room, I had seen African-American brochures, I had seen a Hispanic brochure, but I didn't see anything with a face that looked like mine. It's important that you have women of color presenting this information to those communities," Cameron stressed.

Cameron is what's called a "Conversations Leader." These volunteers of Native American descent talk about the American Cancer Society's recommendations through conversations with tribal women. Cameron said they used to say "breast cancer is not a disease of our people," but that attitude is beginning to change, through programs such as the Pink Shawl Initiative.

Cameron's conversations include topics such as maintaining a healthy weight, staying active, limiting red meats and alcohol, and getting age-appropriate screenings - information particularly important to women.

"The women are the gatekeepers to the family. They really are the force that takes care of the family, and if you don't take care of yourself first, you're not going to be able to be there to take care of your family members," she pointed out.

More information about the Pink Shawl Initiative is available at www.dreamthecure.org.