Report: Some Counties in NC, U.S. Known for Death Penalty Use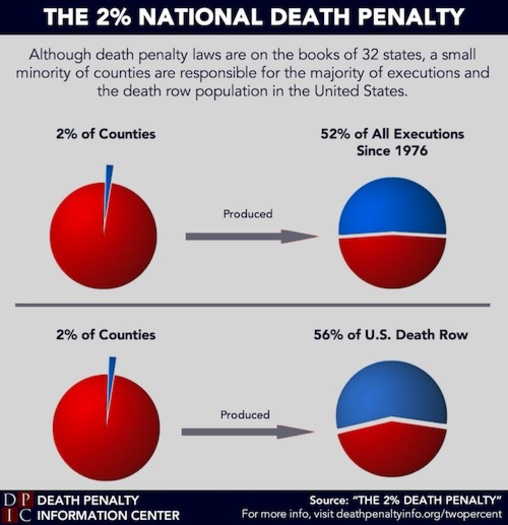 GRAPHIC: Just two-percent of counties in the U.S. account for a majority of the death sentences, according to a new report. Courtesy Death Penalty Information Center.
October 8, 2013
WINSTON-SALEM, N.C. - Not all counties are created equal when it comes to issuing death penalty sentences in North Carolina, or in the rest of the country. According to a new report by the Death Penalty Information Center, half of North Carolina's death sentences since 1977 have been handed down in just 13 percent of its counties. Forsyth and Wake Counties top the list, with 24 and 22 death sentences respectively.

Frank Baumgartner, a political science professor at UNC, explained why there seems to be a concentration in certain areas.

"North Carolina is typical of other states. A small number of jurisdictions apply the death penalty for some reason, and I think the reason is the development of a local prosecutorial culture," he said.

North Carolina's most recent death sentence was handed down in May, in Cumberland County.

Nationwide, death penalty sentences are concentrated in just 2 percent of the counties, with Houston, Texas, accounting for 10 percent of all death penalty cases nationwide.

Baumgartner said that, once a death sentence is handed down in a county, prosecutors there are more likely to pursue the punishment in another case.

"So, when the next really bad one occurs, you think, 'Well, just in terms of fairness we need to apply it again in this case.' The counties of the United States separate out into the users and non-users of the death penalty, which is very disturbing, when you think about it," he remarked.

Earlier this year, the State Assembly repealed the Racial Justice Act, which had enabled North Carolina death row inmates to argue that race was a factor in their sentencing or jury selection. It had allowed them to have their sentences converted to life in prison without the possibility of parole.

The full report is at DeathPenaltyInfo.org.


Stephanie Carroll Carson, Public News Service - NC