Finding Homes for the Vegas Animals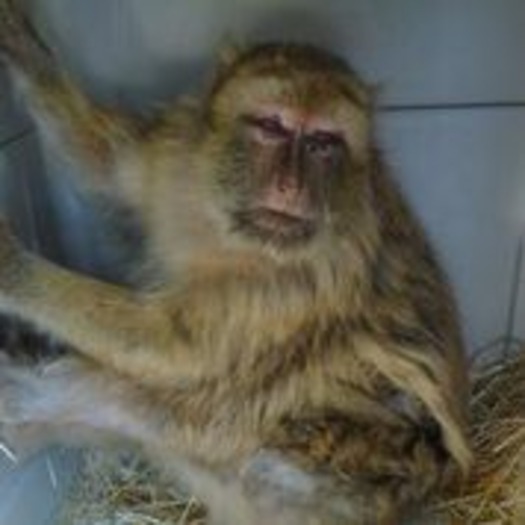 PHOTO: This is one of the Barbary Macaques removed from the Las Vegas Zoo - now in a central Kentucky primate sanctuary. Photo courtesy Primate Rescue Center.
October 14, 2013
NICHOLASVILLE, Ky. - When the troubled Las Vegas Zoo in Nevada closed unexpectedly late last month, the scramble was on to find new homes for the nearly 200 animals that had been housed there. Since then, animal welfare workers, including April Truitt, co-founder and director of a primate sanctuary in central Kentucky, have worked with the U.S. Department of Agriculture to relocate some of the animals. Four examples of a species of macaque monkeys commonly known as Barbary apes are now housed at Truitt's non-profit Primate Rescue Center in Jessamine County.

"Our goal here, certainly, is to allow them to live out their lives," Truitt said of the animals left homeless. "There's not much really needed in the way of rehabilitation except for medical issues."

The zoo-keeping staff at the Las Vegas Zoo quit, claiming they were not allowed to properly care for the animals.

According to Truitt, the monkeys had not been seen by a veterinarian in a long time, and they were in "pretty poor shape."

When she brought them to her sanctuary near Nicholasville, the facility was already at what she calls "comfortable capacity", home to 11 chimpanzees and members of 10 species of monkeys, 41 animals in total. But, she said, the rescue was necessary.

"We really felt like we had to reach out in this case, because there really were no options in the accredited or credible places for these animals," she said. "And, the way the placements seemed to have been going, they could have ended up anywhere."

Eileen Dunnington, who is the sanctuary's care staff supervisor, said the Barbary macaques are adjusting well as they transition from what she called a "roadside zoo."

"Everyone's always a little bit nervous when they come into a new environment, but they seem to be happy," she said. "They're in quarantine right now because they do need additional medical attention."

Dunnington said one of the big changes is improving the monkeys' diet.

Truitt, who is president-elect of the North American Primate Sanctuary Alliance, also helped relocate the Nevada zoo's one chimp, Terry, to a sanctuary in Fort Pierce, Florida.

"A single chimp sitting alone for 18 years is just the worst possible thing I can ever imagine, for a chimp to not have the company of another chimp," she declared.

Truitt said Terry will have plenty of options to find "a buddy, or two, or ten." There are 260 chimps at the Florida sanctuary.

Link to the Kentucky sanctuary at PrimateRescue.org.