Arizona Public Land Managers Honored for Achievements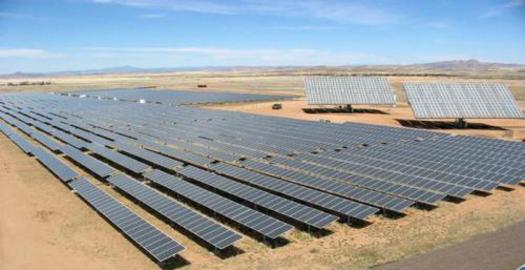 PHOTO: The Wilderness Society is honoring the Arizona state office of the Bureau of Land Management for its work on identifying sites for solar and wind projects that donít conflict with wildlife habitat or recreational land uses. CREDIT: The Wilderness Society.
December 23, 2013
PHOENIX - Two federal land managers from Arizona are being honored by The Wilderness Society for their work in promoting conservation while balancing multiple uses on Bureau of Land Management lands. The so-called CAPE awards go to Kathy Pedrick of the Arizona State BLM office for her work on renewable energy planning, and to Claire Crow, manager of Ironwood Forest National Monument.

According to The Wilderness Society's assistant director for agency policy, Phil Hanceford, Crow stood firm on banning target shooting at Ironwood Forest, in the face of heavy political pressure to allow such activity to continue.

"Recreational target shooting was leading to vandalism of the objects and values and resources that the Monument was created to protect in the first place, things like saguaro and ancient petroglyphs and that kind of thing, as well as (affecting) visitor safety."

Hanceford said the target shooters also left behind large amounts of shot-up trash such as old appliances. He noted that hunting with firearms is still permitted in the area.

The BLM's Kathy Pedrick also is being honored by The Wilderness Society for finalizing a statewide plan for smart development of solar and wind energy projects. The Society's Alex Daue said these are large projects that will change the land forever.

"What Arizona BLM has done is really found the sweet spots where you're not going to have habitat for endangered species like desert tortoise and you're not going to have wilderness-quality lands where people are trying to go out and hike and hunt and fish with their families," he said.

Daue said the BLM process has already resulted in plans for a solar energy plant southeast of Phoenix known as the Maricopa Solar Park.

"They're already seeing that the process is happening quickly and smoothly because of this plan that Arizona BLM has put together, and because the developer for this project chose one of these low-conflict places to propose their project."

Daue said Arizona's plan can serve as a model for other states interested in responsible development of renewable energy projects on public lands.

Doug Ramsey, Public News Service - AZ