A Kickoff Resolution for 2014: "Give a Pint, Get a Pound"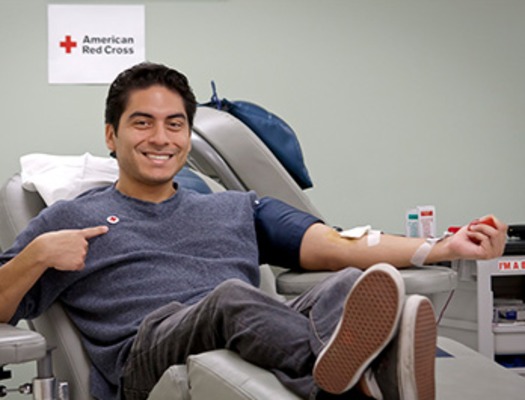 PHOTO: Starting Jan. 1, there's extra incentive for people to donate a lifesaving gift. In January, the American Red Cross teams up with Dunkin' Donuts to give a voucher good for a pound of coffee, to those who donate a pint of blood. Photo courtesy American Red Cross.
December 26, 2013
HARTFORD, Conn. - It could be just the extra incentive you need to make a New Year's resolution to donate blood in 2014. For "Give a Pint and Get a Pound," people who roll up their sleeves will get a little something back for their generosity.

Blood donations often lag during the holiday season. According to Steve Mavica, communications manager, Greater Chesapeake & Potomac Region, American Red Cross Blood Services, this is a way to replenish supplies, as the need for blood at clinics and hospitals is constant, year-round.

"If you go into an American Red Cross Donor Center or one of our remote blood drives and donate blood during the month of January, you'll receive a voucher for a free pound of Dunkin Donuts coffee," Mavica said.

The promotion starts on Jan. 1 and is good for donations made throughout the month of January in recognition of National Blood Donor Awareness Month, he added. The American Red Cross estimates that one in 10 people admitted to a hospital will require a blood transfusion.

Mary Brant, communications manager, Northern New England Region, American Red Cross Blood Services, said the end-of-year holidays and summer months are the two times of year when the need for blood donations can be the most critical. She said that's because schedules get busy and people get out of their normal routines.

"Even our regular donors that we count on, sometimes their routines change, so we are encouraging people during this holiday season to make time in their schedule to come in and give blood," Brant said.

Mavica said 17 is the minimum age in the region to give blood, although 16-year-olds can donate with permission from a parent. He added that they will do a brief health check first, partly to see if the person has enough iron in their blood to donate.

"What we ask is, before people come in, they have a nice healthy breakfast or a healthy meal high in iron, because iron deficiency is one of the main reasons why people are deferred."

This is the seventh year the Red Cross is teaming up with Dunkin Donuts to provide a little extra incentive to donate. Mavica said about 40 percent of people in the U.S. are eligible to give blood, but fewer than 10 percent actually do each year.

More information is available online at www.RedCrossBlood.org.

Mike Clifford, Public News Service - CT