Teachers: NY $ for Education Doesn't Even Match Inflation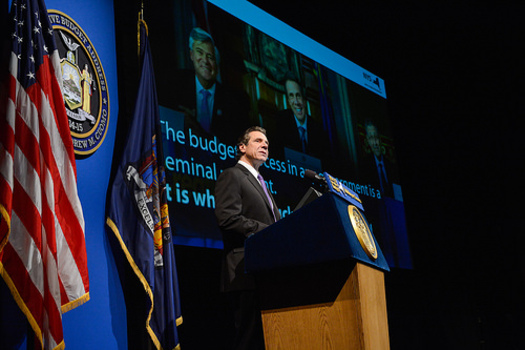 PHOTO: Gov. Andrew Cuomo's proposed budget, announced Tuesday, would see 69 percent of the state's school districts starting the 2014-15 school year with less money than they received five years ago, according to a new analysis by the state's largest teachers union. Photo courtesy Governor.ny.gov.
January 24, 2014
ALBANY, N.Y. – There was good news and bad news in Gov. Andrew Cuomo's proposed budget in the eyes of New York State United Teachers (NYSUT).

Some of the education-related aspects sounded good to the state's largest teacher's union.

Cuomo's commitment to universal pre-kindergarten and his critical focus on problems with the Common Core curriculum were noted favorably.

But numbers crunched in a new NYSUT report show 69 percent of New York school districts starting the 2014-2015 school year with less money than they received five years ago.

"That's a very difficult thing to accept if you're a school district trying to meet higher standards and trying to have college- and career-ready students," says Dick Iannuzzi, the union's president.

The proposed education budget's total school aid increase of almost $603 million should be closer to $1.5 billion, according to the Educational Conference Board.

Iannuzzi says state education funding hasn't even kept pace with inflation – and that, he says, is bad news.

"But the good news is it's an election year," he says, "and people tend to focus a little bit more in an election year.

"So, let's hope the good news outweighs the bad news and we get to the number we need, which is going to be much closer to $2 billion than well short of $1 billion, where the governor is."

Iannuzzi adds he did appreciate some of Cuomo's budget message.

"Universal pre-K, the idea of addressing Common Core and adding his voice to the concern is helpful," he agrees. "But obviously, the overall budget dollar was dramatically less than is going to be needed."

Iannuzzi was also critical of the governor's plans to cut taxes, saying that would "rob the state of the revenues it needs to support education."

He called them feel-good tax cuts.


Mark Scheerer, Public News Service - NY