A New Look at Some of Oregon's Wildest Country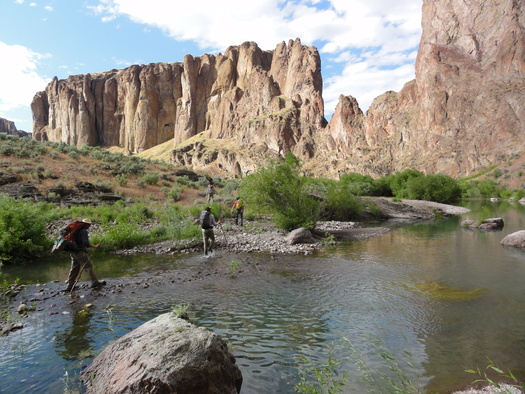 PHOTO: ONDA staff and volunteers survey a section of the Oregon Desert Trail in 2011, along the West Little Owyhee River in the Owyhee Canyonlands. Photo credit: Jeremy Fox.
February 10, 2014
BEND, Ore. - It took three years and thousands of volunteer hours, and the result is the closest look yet at some of Oregon's wildest country. The Oregon Desert Trail Guide is now online, where adventurous hikers, cyclists and horsemen can study maps and photos, notes about local conditions and services, and even download GPS data to help them navigate the most remote parts of Oregon, from the Bend area to the Idaho border.

The Oregon Natural Desert Association (ONDA) compiled the guide. Executive director Brent Fenty said the details should help more people enjoy the beauty and solitude - and also, understand the challenges they might encounter.

"Many of these areas would be great for novice hikers, but there are other sections that would only be appropriate for someone who's truly an expert and has a lot of experience backpacking or horseback riding or mountain biking," Fenty said.

The Oregon Desert Trail isn't a contiguous trail, but a rambling route of more than 750 miles. It is partly established roadways or trails and partly open range. The guide is on the ONDA website and is divided into four regions: Central Oregon volcanics, the East and West Basins and ranges, and the Owyhee Canyonlands.

ONDA has submitted a proposal to the federal land management agencies to designate the Oregon Desert Trail as a connector between two existing National Recreation Trails, the Fremont and the High Desert. Fenty said he isn't sure how long it will take to get a decision.

"I think a key next step is really to reach out to a number of the communities and counties that the trail goes through, get their feedback on what has been proposed, and continue to expand upon and build on the original proposal and information that has been collected," he said.

As the weather permits and people start exploring the Oregon Desert Trail, Fenty said ONDA hopes they will add their own comments and details to the Oregon Desert Trail Guide to benefit fellow explorers.

The guide is online at onda.org.


Chris Thomas, Public News Service - OR