NC Prepares for May Primary: Groups Remind People to Vote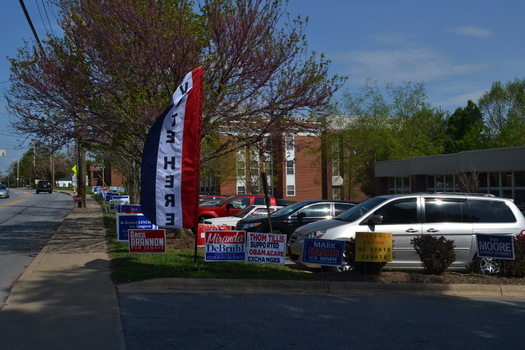 Photo: Polling places are cluttered with signs in advance of the primary next Tuesday. Photo: Stephanie Carson
April 29, 2014
RALEIGH, N.C. - North Carolina's primary election is on May 6, one week from today, and while campaign signs are cluttering the entrances to libraries and other polling places statewide, some groups are concerned about voter turnout. Bob Hall, executive director of Democracy North Carolina, says voter apathy can effect an election just as much as casting ballots.

"A whole new crowd took over Raleigh as a result of the low turnout that happened in 2010, so in 2014 low turnout could spell a difference," he warned.

Because of changes to North Carolina's voting laws last year, early voting began a week later this year and ends on Saturday, statewide. Next Tuesday, precincts will be open from 6:30 a.m. until 7:30 p.m. Photo IDs are not required in this election, but it is important to make sure you vote at your assigned precinct.

Hall says that, although this is a primary, meant to decide party nominees, some candidates are running unopposed, and next Tuesday's election will be the final say in who holds that office in such cases.

"Everything that affects our lives is decided by our representatives, and we're choosing them now," he said. "In many cases this is the final vote; in some cases, we're picking the nominee."

More information can be found by calling 1-888-OUR-VOTE.

Reporting for this story by North Carolina News Connection in association with Media in the Public Interest. Media in the Public Interest is funded in part by Z. Smith Reynolds Foundation.