Report: Protecting Wide-Open Spaces Could be Good for SE Oregon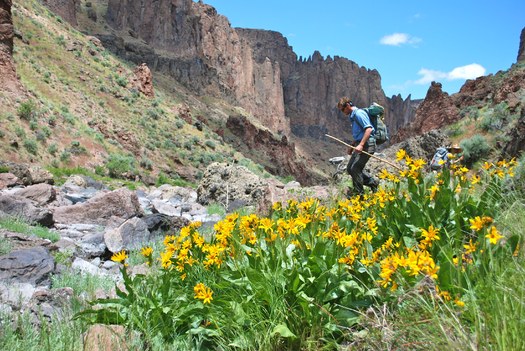 PHOTO: A hiker explores the West Little Owyhee River Canyon in southeast Oregon's Owyhee Canyonlands. An independent economic analysis says protecting the area could be a much-needed boost for the Malheur County economy. Photo credit: Tim Neville.
Photo by Tim Neville
June 16, 2014
ONTARIO, Ore. – Southeastern Oregon could be using at least some of its stark natural beauty to attract new kinds of business and jobs to the area.

That's the finding of a report that compares Malheur County to 11 other counties in the West with similar populations and resources.

Where the counties differ is in their economies.

Report author Ben Alexander, associate director of Montana-based Headwaters Economics, says the counties that have protected some of their public land and encouraged outdoor recreation have better bottom lines than those that do not.

"Their economies on average grow faster, sustain agricultural employment better, have less economic hardship, and benefit from greater travel and tourism business activity," he says. "Those are all things that Malheur County would benefit from."

Alexander says Malheur County's economy has been sluggish even compared to other rural areas of Oregon.

For 20 years, conservation groups have pushed to protect almost 2 million acres of the Owyhee Canyonlands, but Congress hasn't acted on it. The county has more than 4.5 million acres of federal land.

Alexander says one advantage to designating federal wilderness is that it brands an area, showing up on maps and attracting people who might not otherwise have noticed it.

In Malheur County, he says, the outdoor amenities would have the added benefit of appealing to younger people – a dwindling demographic in this part of Oregon.

"Young people are leaving because they're not seeing job opportunities," he explains. "If you look in the last decade, Malheur County has lost people, in net terms – most of those have been young people. "The county population is getting significantly older."

Malheur County has some wilderness study areas, and parts of the Owyhee River are protected as wild and scenic.

Alexander says the report is being shared for upcoming meetings about economic development in eastern Oregon.


Chris Thomas, Public News Service - OR