Indiana Group: Proposed Dam Threatens Environment, Recreation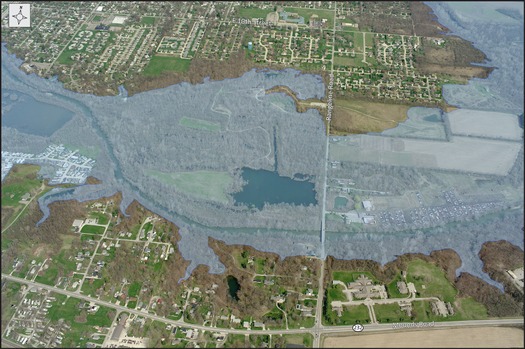 PHOTO: The Hoosier Environmental Council says the reservoir that would be created by damming the West Fork White River would harm the environment and Indiana's recreation and tourism. Photo courtesy moundslake.org.
July 21, 2014
INDIANAPOLIS – Environmental groups in Indiana warn there would be long-lasting impacts if the proposed Mounds Lake Reservoir northeast of Indianapolis is constructed.

Community leaders in Anderson want to build a dam on the West Fork White River that would create the reservoir, extending seven miles upriver, in hopes of boosting economic development and improving flood control.

But Tim Maloney, senior policy director for the Hoosier Environmental Council, says damming a free-flowing river has serious consequences for the aquatic ecosystem.

"The fish communities will change," he explains. "The ability of fresh-water mussels to survive would be affected.

"Of course, you have the effects on the river where the lake actually is, but also downstream, it changes the river dynamics as well."

Nearly 1,000 acres of hardwood forest along the river would be flooded by creating the reservoir.

Maloney says man-made reservoirs also are vulnerable to siltation and blue-green algae contamination, both of which seriously reduce their prospective benefits to anglers, boaters and tourists.

The Indiana Archaeology Council is also opposed to the proposed project.

Maloney says that's because the reservoir has the potential to damage parts of the prehistoric Native American earthwork sites already preserved in Mound State Park.

"They would not be submerged by the lake, but they'd be very close to the shoreline and subject to erosion and shoreline damage occurring because of the wave action on the shoreline," he points out.

Those who favor the project say it will provide billions of gallons of water to mitigate drought and flood impact.

But opponents argue a new reservoir should only be considered after other strategies to reduce water demand are considered.

Maloney adds that with careful planning, his group is convinced the free-flowing river and adjoining natural lands can provide opportunities for more sustainable economic development.

"Protecting the river can also provide significant outdoor recreation and tourism benefits that the Anderson area could better capitalize on, and provide improvements to the region's quality of life," he says.

It's estimated that more than 360,000 people visit Mounds State Park every year.