Oregon's Foster Youth: "We're Individuals, Not Statistics"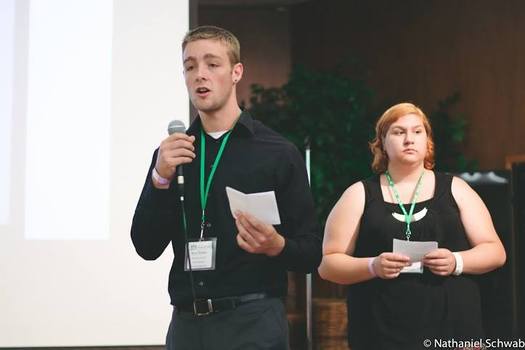 PHOTO: Microphone in hand, Royce Markley addressed policymakers at a luncheon last week. Members of the Oregon Foster Youth Connection shared their views about problems with the foster care system and outlined possible solutions. Photo credit: Nathaniel Schwab, Children First For Oregon
July 28, 2014
PORTLAND, Ore. - Copies of the new Oregon Bill of Rights for Foster Children are being sent to every foster home and group home this week, and given to foster children and the people who work with them. Now, the same team of kids who developed it is making new recommendations to policymakers.

They address concerns that teens aging out of foster care need more financial guidance and housing options to live on their own - and that foster children could be better matched with families to avoid kids bouncing from one home to another.

In Royce Markley's childhood, it was nine foster homes.

"It's horrible for your sense of belonging," he said. "It creates all these emotional and developmental problems when you're moving all the time, because you never have any time to focus on yourself. You're constantly focusing on the next move - 'Am I going to be moved? Am I going to have to make new friends?' You're kind of in this defense mode all the time."

Markley and other members of the Oregon Foster Youth Connection are recommending a compatibility survey for foster parents and kids prior to assigning placements, and more funding for the Independent Living Programs in every county that help foster teens transition to adult living - but now serve only half of those who need the assistance.

The recommendations were presented at a conference last week. They are practical - and in some cases, blunt - about overloaded caseworkers, and a system the kids say is inconsistent and lacks accountability.

Pamela Butler, Oregon Foster Youth Connection director, said the focus isn't on complaining - but on fixing things.

"The recommendations they're making, they believe will help kids right now in foster care - not larger, high-level policy discussions where we talk about change happening in a decade," she said. "These youths are talking about things that right now, on the ground, aren't going well - and sometimes wouldn't even take a law change to make that better for foster youth."

She said prior years' recommendations created the new hotline and ombudsman for foster youth in Oregon. The team will hone its new recommendations to present to the Legislature next year.

Perhaps the most poignant concern raised by foster youth is that they're "seen as statistics, rather than individuals." Now age 20, Markley said that was his impression, too.

"Oftentimes I just felt like I was floating along," he said, "and that most people just kind of agreed to the consensus that, you know, 'They're good kids but they're not really going to amount to anything, because statistics show that foster youths just really don't go anywhere in life.' "

Markley, who is working and in college now, said he aims to prove them wrong.