Concerns at Home with Overseas "T-TIP" Trade Agreement Talks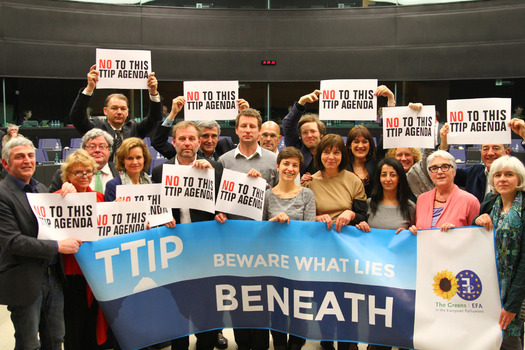 PHOTO: Those opposed to the Transatlantic Trade and Investment Partnership (T-TIP) protested during negotiations in March in Brussels, Belgium, where the latest round of talks is under way this week. Photo credit: Greens / European Free Alliance / Flickr.
July 28, 2014
SIOUX FALLS, S.D. - With the latest round of talks on a proposed trade agreement between the United States and the European Union under way "across the pond," concerns are being raised here at home.

The aim of the Transatlantic Trade and Investment Partnership - or T-TIP - is to remove barriers and make it easier to buy and sell goods and services between the EU and the United States. But Debbie Barker, international director of the Center for Food Safety, said she's worried the deal may lead to a ceiling on health and food safety standards.

"Versus setting a floor of standards, a base standard that all parties agree to - and then also, allowing countries to surpass that standard, that would be in our view the correct way to have standards set in trade agreements such as T-TIP," she said.

Barker also said T-TIP could undermine efforts in the United States to require labeling foods that contain genetically modified organisms. Almost 70 percent of all processed foods now sold in U.S. supermarkets contain GMOs.

Another major concern Barker has about T-TIP and the ongoing talks is what she calls the lack of transparency.

"Other trade agreements - such as the WTO agreement, the NAFTA agreement - after each round of negotiations, negotiation texts were released," she said. "Under the T-TIP, no new negotiation texts are being released. Even our governmental representatives are not able to freely view the text of a negotiation and an agreement, which, as I said, can impact and overrule in some cases domestic laws and standards."

Supporters of the trade agreement say it will help unlock opportunity for American families, workers, businesses, farmers and ranchers through increased access to European markets.
Negotiations on T-TIP began one year ago in Washington, D.C., while this latest round of talks is taking place in Brussels, Belgium.

More information is online at ustr.gov/ttip and at iatp.org/issue/trade>.
Jerry Oster, Public News Service - SD