Israeli & Palestinian Teens Summer "Break" in the U.S.: Young Citizen Diplomats Plan Future Peace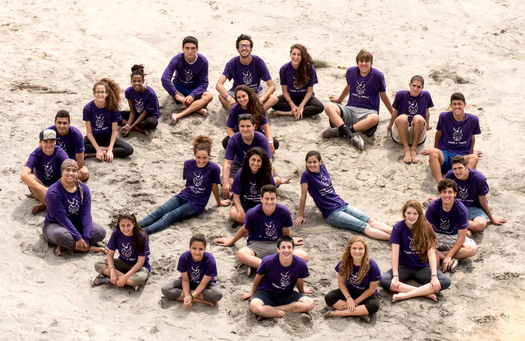 PHOTO: Israeli and Palestinian teens met this summer to learn how they can be individual citizen diplomats and help create a brighter future for the region. Photo credit: Hands of Peace.
July 30, 2014
CHICAGO - While violence rages back home, some Israeli and Palestinian teens opened their hearts and minds to each other in Chicago this summer.

Hosted by American families during the three-week Hands of Peace program, they did the hard emotional work of "hearing the other side" and wondering how they can be the change that brings peace in the future.

"Miriam," 16, of Jerusalem said finding hope in hopeless times is difficult but possible.

"I sat there and I fought with tears and words," she said, "and I felt like if I let those people give up, then everything is lost - and after a while I helped those people find the hope inside them again."

Miriam said returning home is challenging but friendships are more powerful than any peace agreement - and love is the best way to model change for others. Whether it's through a post on social media or talking about change with your friends and family, she said, the little things add up.

Miriam has made Palestinian friends through the program, which she said shows others how to break stereotypes and discover peace is possible with their neighbors.

"Two Palestinians or four Israelis being killed because of beliefs and ideological things, you finally understand what that means," she said. "It's not just on the newspaper anymore. It can be your friend, it could be your cousin."

During the sessions, Miriam heard stories from Palestinian teens challenging what she had been taught. No matter where you are from, she said, there are always two sides to every story.

"Some of those stories were very hard, very difficult to deal with as an Israeli who believed the idea that soldiers are always heroes, are never doing anything wrong," she said. "And facing mistakes are happening all over Israel has been hard."

Miriam added that if today's teens can learn to understand and respect one another - as tomorrow's teachers, business leaders, politicians and activists - they can pave the way for a peaceful future.

"I can't fight what's going on right now and I can't fight the past, but I can try to put darkness aside and think about what good do I bring to the world," she said. "And I help to bring light. And just like that, if everybody will add a little light of their own, eventually we won't have any more darkness."

She might be on the right path; the Center for Systemic Peace reports that armed conflict trends worldwide are drastically down from a high point in 1993.

More information is online at systemicpeace.org.
Mary Kuhlman, Public News Service - IL