Media Merger Madness: What's In It For You?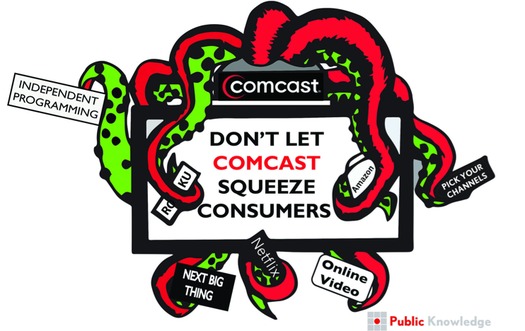 GRAPHIC: The media watchdog group Public Knowledge uses an octopus metaphor in its opposition to media mergers such as the proposed Comcast takeover of Time Warner. Image credit: Public Knowledge.
August 6, 2014
NEW YORK - Comcast wants to acquire Time Warner Cable; they're the two biggest cable TV companies. T-Mobile and Sprint - the third- and fourth-largest wireless providers - are rumored to want to merge, and 21st Century Fox's Rupert Murdoch reportedly wants to take over Time Warner - the media company.

John Bergmayer, senior staff attorney for the media watchdog group Public Knowledge, is skeptical of all these deals for many reasons. The primary one, he said, is that they'd reduce the competition that keeps prices down, service decent and content diverse.

"As the Department of Justice and the FCC found when they blocked the AT&T-T-Mobile merger," he said, "you need a certain number of competitors to ensure that a market actually is competitive."

Other advocates say mergers seldom address the needs of communities of color, which are historically under-represented in media ownership and control. With enough public push-back, Bergmayer said, government agencies can be convinced to block these attempts at media "empire-building."

Betty Yu said her group, The Center for Media Justice, takes the general view that media mergers are always bad and customers are always on the losing side.

"People of color make up about 30 percent of the population, but we barely own any real media infrastructure," she said. "So, we know how this affects how our issues - around labor and education, health care and the environment - are covered for poor people, working people and people of color."

Bergmayer said the merger that "frightens" him the most is Comcast and Time Warner Cable. With NBC and NBC News already owned by Comcast, he said, their domination of cable would affect everything from news coverage to entertainment programming.

"Comcast plus Time Warner will be so big that they can essentially make or break any independent programming," he said. "So, you're creating a single gatekeeper that really determines what's going to be the successful video content nationwide."

As for all of the pending or rumored deals, Bergmayer said he would like to see a repeat of the public outpouring of negative comment that sank the merger between T-Mobile and AT&T.

"I think there's a very good chance that they'll be blocked or at least, that significant conditions would be put on them that would alleviate some of the harms," he said, "but it depends on a lot of people showing up."