Gold-Dredging Decision Digs Deep Into River Rights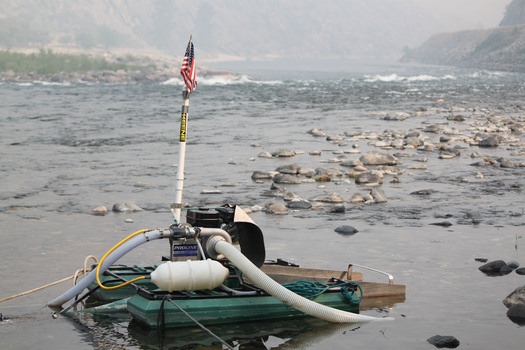 PHOTO: The Idaho Land Board is considering a permit to allow commercial suction dredging for gold on the Salmon River, even though the EPA says the area is off limits. Photo credit: Jonathan Oppenheimer
August 7, 2014
BOISE, Idaho – With gold prices at around $1,300 an ounce, motivation is strong to mine for the metal in Idaho.

Many rivers and streams can be used by gold panners or suction dredges, but the Environmental Protection Agency has said parts of the Salmon River are off limits to the dredges because of damage to wildlife habitat and water quality.

Even so, the Idaho Land Board will decide this fall on an application for a five-year commercial riverbed lease to suction dredge the river near Riggins.

Jonathan Oppenheimer, senior conservation associate at the Idaho Conservation League, says the controversy is strong as this is the same area of a recent dredging protest that saw folks setting up equipment without permits.

"Fisherman, outfitters, rafters, loggers and others who use our rivers and our public lands all work within the rules and regulations to keep those lands and waters healthy and clean, and that's just our responsibility as citizens," he points out.

The state has the right to issue the permit, and will hold a public hearing next month in McCall.

However, Oppenheimer says since the EPA has deemed this area of the river off limits, the miner could risk fines of around $37,000 per day if he sets up the equipment.

Oppenheimer points out there's more at stake than just stirring up sediment that smothers fish eggs or impairs water quality.

He explains that the equipment disrupts streamside vegetation and can create holes that are dangerous for anglers, boaters and swimmers.

"Clean water and a healthy Salmon River are priceless assets for Idahoans and those downstream and no one has the right to degrade it or pollute it," he stresses.

Miners contend that there is no pollution from the practice, and any mud they take up from the bottom of the river is put back.

Oppenheimer says there's another layer to the debate, too, about states' rights and objection to EPA decisions.