Some Oregon Wild Places in Limbo As Wilderness Act Turns 50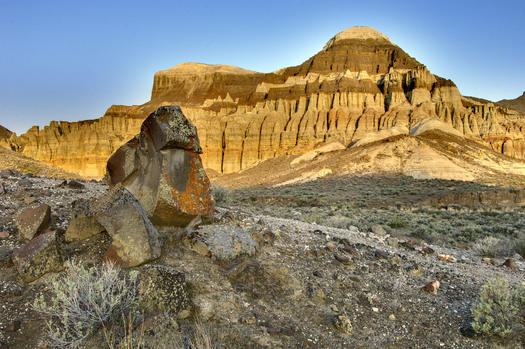 PHOTO: Conservationists have their eyes on the Owyhee Canyonlands as Oregon's next potential federal wilderness area, though legislation remains to be introduced. Chalk Basin is part of the 2.1 million acre area. Photo credit: Greg Burke.
September 2, 2014
BEND, Ore. - September 3rd marks the 50th anniversary of the signing of Wilderness Act, the federal law that created the National Wilderness Preservation System. Today, Oregon has about 2.5 million acres of protected wilderness, and while that may seem like a substantial number, it represents far less protected acreage than in neighboring states.

Only Congress can designate wilderness areas, and as the law turns 50, at least three Oregon wilderness bills are stalled in Capitol Hill gridlock. Dan Morse, conservation director at the Oregon Natural Desert Association (ONDA), says he isn't discouraged with the current congressional inaction on wilderness.

"Eventually, Congress needs to take action on a whole host of different natural resources-related legislation," he says. "And that time will come. It simply can't go on forever that they don't act on these things, so it's an exercise of being ready for when that time comes."

The pending legislation would expand the boundaries of Oregon Caves National Monument and the Wild Rogue Wilderness, create new wilderness areas for the Devil's Staircase, Cathedral Rock and Horse Heaven, and designate lengths of the Chetco, Molalla and Rogue rivers as Wild and Scenic Rivers.

Oregon's wilderness acreage makes up just four percent of the state, divided into more than 40 units from the coast to the interior deserts. One grassroots group keeping an eye on the progress of state's wilderness areas is Great Old Broads for Wilderness, and according to Bend chapter co-leader Joanne Richter, Oregon needs more designated wilderness areas.

"Wilderness areas are unique, they're gems," says Richter. "And there are still more gems out there, in public ownership for the most part, that aren't protected. Our view is they should be protected for a variety of reasons, and it would still be a drop in the bucket in terms of the overall acreage of the state."

Richter explains the Great Old Broads for Wilderness name demonstrates the organization's ability to take stands on serious issues with a combination of humor and common sense. There are three Great Old Broads chapters in Oregon, all of which sponsor hikes and service projects on public land throughout the state. They welcome men into their ranks too - they call them "bro's."

Oregon's wilderness areas typically skew toward what environmentalists call "rock and ice," dramatic mountain peaks and high-elevation forestland. But wilderness advocates argue he state's high desert is just as spectacular in its own way, though only one percent of it is protected. Morse says ONDA is advocating for a new wilderness area: the Owyhee Canyonlands on the Oregon-Idaho border.

"The Owyhee is somewhere north of two million acres of sagebrush steppe, and it's an amazing ecosystem," he says. "It's also a fragile ecosystem, especially in times of drought, and it's something we can't afford to lose."

According to Morse, a wilderness designations doesn't limit grazing on public land, but it does limit resource extraction and off-road vehicle use. As a result, he says, developing any wilderness legislation in Oregon is best done with input from all groups - and that can take a long time.

Chris Thomas, Public News Service - OR