Internet "Slowdown" Today – Maybe Every Day?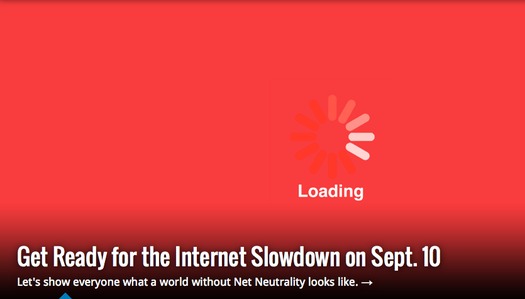 GRAPHIC: The frustrating indicator of a slow download, known by many computer users as the spinning wheel of death, will be seen all over the Internet today. It's a symbolic protest of government plans to create online fast lanes and slow lanes. Graphic courtesy FreePress.org.
September 10, 2014
NEW YORK - The Internet may seem to be slowing down today - but it's actually part of an effort to prevent a future where, according to Internet freedom advocates, some people online would have priority over others.

If you go to websites such as Reddit, Netflix, Kickstarter, Foursquare or Vimeo, chances are you're going to see an image or an animation that might make you think your download speed has turned to molasses. Timothy Karr, senior director of the group Free Press, called it the "spinning wheel of death."

"That icon that appears when your website has troubles loading a document or a video, or a music file or something like that," he said. "It's a very familiar frustration for Internet users."

It's a symbolic slowdown - a protest of a government plan to let some deep-pocketed broadband providers divide bandwidth into "fast lanes" and "slow lanes." Since May, Karr said, the Federal Communications Commission has been inundated with public comments on the proposal, most of them in opposition. The comment period ends next Monday, Sept. 15.

Two years ago, in opposition to legislation involving copyrights, many websites took part in a partial blackout of the Internet, with some - such as Wikipedia - shutting down completely for a day. Today's protest may be symbolic, Karr said, but it reflects serious public concerns about the need to keep a free and open Internet.

"An organization called the Sunlight Foundation looked at public comments to the FCC - and there've been more than a million already - and they found that 99 percent of those comments were in support of net neutrality," he said. "So, this is an issue where the public is strongly unified."

On Monday, the last day the FCC is taking comments, there will be actual - not virtual - lunchtime rallies in New York and Philadelphia.

More information is online at battleforthenet.com/sept10th.