Nevadans are Part of "People's Climate March" in NYC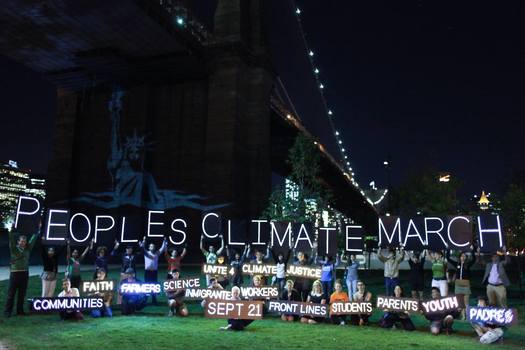 PHOTO: Several Nevadans are headed to New York City to take part in the People's Climate March being held Sunday in advance of the Climate Summit at the United Nations next week. Photo courtesy of People's Climate March.
September 18, 2014
CARSON CITY, Nev. – Several Nevadans plan on participating in the People's Climate March being held Sunday in New York City, ahead of the United Nations Climate Summit next week.

Some of the Nevadans are traveling aboard a New York-bound locomotive organizers are calling the People's Climate Train.

"And it's a broad-based demonstration that we're ready for action now," explains Jane Feldman, energy chair at the Sierra Club Toiyabe Chapter. "We want our governments to move now, and we want some changes put in place as soon as we can possibly get them there."

Feldman says the event, which is expected to attract more than 100,000 participants, is also meant to show public support for the Environmental Protection Agency's Clean Power Plan.

It calls for a 30 percent reduction in carbon emissions from power plants by 2030.

Feldman stresses everyone in the Silver State can have a positive impact on reducing carbon emissions by using less energy.

"Putting some insulation into your attic," she points out. "Getting a more fuel efficient car, or using your car less. Stepping up your exercise by riding your bike or walking to school or work. All those kinds of things can make a significant impact."

Feldman adds the United Nations Climate Summit brings together leaders from many nations with hopes of reducing carbon emissions, which research has shown are harmful to human health.

She says air pollution can intensify and worsen asthma, and can be associated with premature deaths because of respiratory and heart disease issues.


Troy Wilde, Public News Service - NV