CA College Adjunct Professors Plan Walkout Today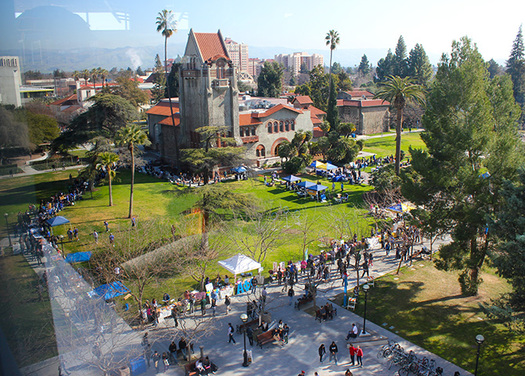 PHOTO: Faculty and students will protest on college campuses today for National Adjunct Walkout Day. A San Jose State University professor created the event as a way to bring attention to the growing number of part-time college-level instructors. Photo courtesy of San Jose State University.
February 25, 2015
Part-time college instructors across the state are uniting for better pay and greater job security. The rallies held on this first National Adjunct Walkout Day are designed to bring attention to the growing number of temporary, part-time instructors, often called adjuncts.

Larissa Dorman, an adjunct professor at San Diego City College, said part-timers make up a surprising 75 percent of college faculty in California.

"What they want is really cheap labor, because they'd rather bring in somebody young and new and pay them less," she said. "That's the kind of stuff that really makes this a civil rights issue, it makes it a worker's rights issue. This is really ridiculous."

Dorman said she and other adjuncts often work at several different campuses. She taught six classes last semester and made $36,000. Had she been full-time, she would have taught one less class and made twice as much money.

Some college administrators say hiring more full-time instructors would drive up personnel costs at a time when colleges are facing funding cuts.

UC-San Diego graduate student Daniel Gutierrez said it's frustrating because he can only use tenured professors for his research committees, even though the professors who know his work the best are adjuncts. Also, he said, he was considering teaching as a profession - but now he's not too sure.

"Even if I wanted to pursue a career in academia," he said, "that's obviously troubling that I won't have any sense of job security afterwards, and that I'll still be living in poverty, like I do today."

Dorman said not only are adjunct professors not getting paid what they're worth, students are losing out, too.

"So, our students are effectively paying money in tuition, while they're getting faculty that have less, that are being paid less money and also being given less opportunity to do the work of a professor," Dorman said.

The idea for National Adjunct Walkout Day came from a professor at San Jose State University who was fed up with working conditions.

More information is online at cft.org and at nationaladjunct.tumblr.com.
Lori Abbott, Public News Service - CA