Wyoming's Sage-Grouse Plans Showcased at Wildlife Conference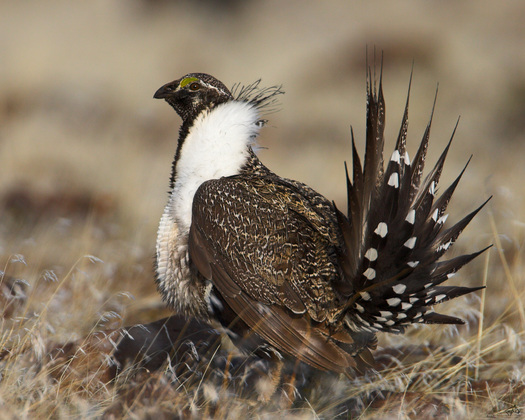 PHOTO: Wyoming's state-led plans to keep the greater sage-grouse off the endangered species list will be highlighted at the North American Wildlife and Natural Resources Conference today. Photo credit: U.S. Fish and Wildlife Service
March 11, 2015
CHEYENNE, Wyo. - Conservation and wildlife management are part the package for working lands. Tying it all together and keeping lands profitable and healthy are lessons being shared at the North American Wildlife and Natural Resources Conference this week in Omaha.

Natural Resources Conservation Service Chief Jason Weller has been working for years with private landowners to protect greater sage-grouse habitat, and is showcasing Wyoming's initiative at the event.

"They've done a fantastic job, and I'm really particularly proud of the partnership with the state of Wyoming and land trusts," he said. "I would hold them up as a great example of how this partnership has worked very effectively."

The U.S. Fish and Wildlife Service is expected to issue a decision on whether to list sage-grouse as an endangered or threatened species later this year. Several sessions at the conference address how to keep the species off the list by preserving habitat.

Pat O'Toole's family ranch is based in Savory, with operations in Wyoming and Colorado. He said it's not difficult to incorporate greater sage-grouse into management plans.

"Including the bird into our portfolio of the future, we're producing food, maintaining wildlife and landscapes for the future," he said. "So for me, it all ties together."

Other topics at the conference include how to make conservation profitable, hunting and fishing access, and renewable energy. Bats, pheasants, ducks, pollinators and reptiles are among the critter topics scheduled.

Event details are online at wildlifemanagementinstitute.org.