West Virginia Kids and Family Funding Looking More Stable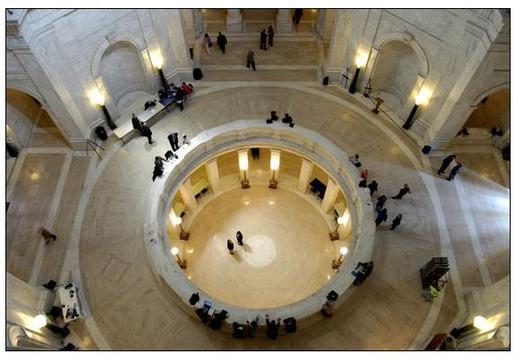 PHOTO: The state Legislature looks likely to restore threatened funding for children and family support programs, and maybe this time putting it in a more stable part of the budget. Photo of the state Capitol rotunda courtesy of the West Virginia Legislature.
March 12, 2015
CHARLESTON, W.Va. - Funding for state programs supporting children and families may be restored, and this time it may be permanent.

While Governor Earl Ray Tomblin had proposed cuts of nearly $1 million for children and family programs for the second time in two years, lawmakers restored the money with a temporary patch last year.

Stephen Smith, director of the West Virginia Healthy Kids and Families Coalition, says it looks like the funding has been restored on a permanent basis. He says there seems to be an agreement between the House, Senate and the governor's office to put the funding in the general revenue budget.

"Plans to restore all $818,000," says Smith. "This is a pretty clear win for kids and families, and domestic violence programs, and child-abuse prevention programs in West Virginia."

The governor's office said the cuts were necessary because of an overall budget gap, but an improving fiscal picture this year is easing the pressure for cuts.

If the money comes from general revenue funding, it's likely to be a more stable source as that budget changes less from year to year. Smith says lawmakers have come to understand these programs pay off in the long run, noting programs such as domestic violence shelters and family resource networks raise sizable matching funds from federal and charitable sources.

"These are scrappy organizations," he says. "They're out raising matching dollars from local businesses and in-kind donations. You turn your $1 into $8 immediately."

He says programs like home visitation also pay off more than five to one in the long run, in part because they address problems earlier. As he puts it, helping a family prevent a problem by supporting them when they need it is a lot cheaper than asking the criminal justice system to clean up the mess later on.

"It's a whole lot easier to give a baby a hand than it is to put a grownup behind bars," says Smith.