N.C. Communities Find Ways to Encourage Living Wage Without Help from State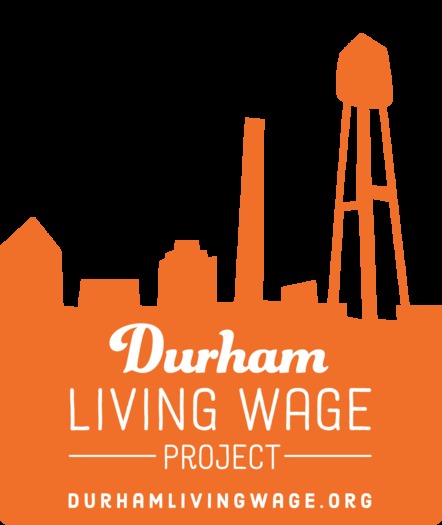 Photo: Durham residents now can look for this logo on websites or at business entrances to find out if the business pays its employees a living wage. Photo credit: Durham Living Wage Project
March 12, 2015
DURHAM, N.C. - Within a few days, residents in parts of the Triangle will know upon entering a business or visiting its website whether it pays a "living wage." It's part of a citizen's initiative to encourage Durham-area businesses to pay their employees what it takes to live in their community, versus the established minimum wage.

State law prohibits individual cities from requiring contractors to pay a living wage and Carl Rist, spokesman with the Durham Living Wage Project, says this initiative represents an attempt by the community to bring greater equality to their economy.

"We were looking for ways we as a community could really address this question of income inequality and had looked at things like local minimum wage," says Rist. "We know all those things would require some support, or essentially the approval of the General Assembly, which we just didn't think would happen in this climate."

The living wage in Durham is $12.33. So far 28 businesses have signed up, employing almost 700 people collectively. Research indicates low-wage earners tend to spend a larger portion of their earnings in the local economy, which Rist says creates a stimulus effect.

Asheville has had a living-wage program, Just Economics, for nine years and now more than 400 companies employing more than 3,000 people have committed to paying a living wage. It is the largest living-wage project in the country. Mark Hebbard living-wage certification coordinator for Just Economics, says employers and the community are being paid back in big dividends.

"This program has redefined what it means to have a successful business here in Asheville," he says. "Beyond just turning a profit, this new definition includes positively impacting all the stakeholders in the game, including the employees."

Rist says the living-wage effort goes beyond the workforce and looks to celebrate companies paying their employees a fair wage.

"It's for workers here to be paid more, but it's also a way to raise up those businesses that are doing the right thing and to give them greater visibility, encourage people to shop at those stores, so it's absolutely about local businesses or even others that pay a living wage," says Rist.