E-Cig Use Skyrocketing Among 'Tweens and Teens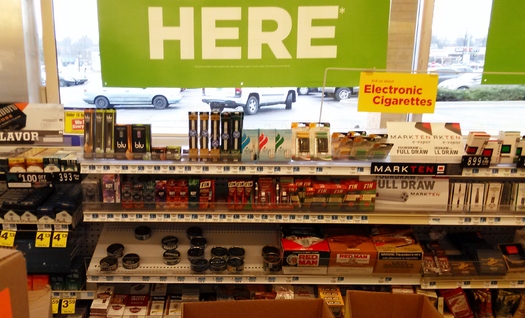 PHOTO: The skyrocketing use of e-cigarettes by young people is cause for concern for the CDC and FDA, outlined in a new report. Photo credit: Greg Stotelmyer.
April 27, 2015
FRANKFORT, Ky. – E-cigarettes are increasing in popularity, and new data from the Centers for Disease Control and Prevention (CDC) and the U.S. Food and Drug Administration indicate young people are driving some of the growth.

New information indicates e-cigarette usage tripled among tweens and teens from 2013 to 2014.

CDC Director Tom Frieden says the increased popularity of these products is working against other progress made in the fight against cigarette smoking.

"Big picture here is, we're seeing a striking increase," he says. "It's very concerning. It more than counterbalances the decrease in cigarette smoking, which we've seen occurring over the last few years."

Kentucky passed a law last year banning the sale of e-cigarettes to minors, which includes penalties for minors caught with the product and fines for stores that sell to them.

Another area of concern for the CDC is the popularity of hookahs, or large pipes used to smoke flavored tobacco.

Brian King, deputy director for research translation in the CDC's Office on Smoking and Health, says the many flavors offered with e-cigarettes and hookah tobacco make them an interesting option to young people.

"Hookah, like e-cigarettes, are not regulated, although they have proposed to be regulated, and they're still available in flavors, and particularly kid-friendly flavors that can increase appeal and access," King points out.

King adds this is the first time since the government began collecting data on e-cigarettes in 2011 that their usage surpassed usage figures for every other type of tobacco product, including conventional cigarettes.


Greg Stotelmyer , Public News Service - KY