Derailment Puts Focus on Heavily Traveled High-Speed Rail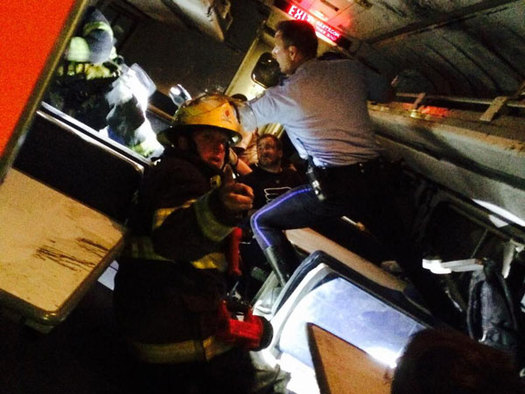 As the NTSB investigates Tuesday's fatal train derailment near Philadelphia, a commuter advocate says the accident could point to rail issues in the heavily-traveled Northeast corridor. Credit: Patrick Murphy, former Pennsylvania congressman who was aboard the train.
May 14, 2015
BRIDGEPORT, Conn. - Investigators are probing everything from speed to track signals in connection with Tuesday's fatal Amtrak derailment which occurred on a heavily-used stretch of track.

Jim Cameron, founder of the Commuter Action Group, says it's too early to pinpoint what went wrong near Philadelphia, but he says the accident happened along a section of track that receives plenty of maintenance attention from Amtrak.

"This is a mainline, high-speed piece of track that Amtrak runs dozens and dozens of trains over every single day," says Cameron. "If anything was wrong with the infrastructure there, it might speak to other problems elsewhere in the system."

Early indications from the train's data recorder indicate the train was traveling in excess of 100 miles per hour. Cameron says one feature missing along that stretch of track is so-called 'positive train control' that automatically slows a train down if it exceeds speed limits.

This weekend will mark the second anniversary of the Metro North derailment at Bridgeport that injured 73 passengers, two engineers and a conductor. Cameron says Metro North is working hard to get those tracks back into a condition recognized as "good repair."

"Metro North's president told lawmakers in Hartford earlier this week it will be another three to four more years before all of that work, just to get back into the state of good repair, is going to be completed," he says.

In all, about 2,000 feet of rail was damaged in the Metro North crash, and the National Transportation Safety Board determined a faulty section of track was the probable cause of the Bridgeport accident.

Cameron estimates it will take a little over year to determine the cause of the Philadelphia Amtrak derailment.
Mike Clifford, Public News Service - CT