Tours Shine Light on Ohio Sustainable Food Production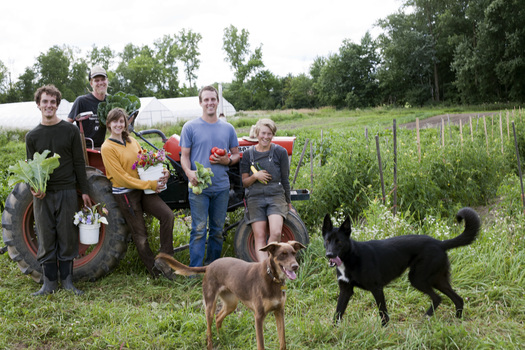 PHOTO: The 2015 Ohio Sustainable Farm Tour and Workshop Series kicks off in June offering people across Ohio the chance to experience life on the farm and learn new skills. Photo courtesy of Sunseed Farm.

May 26, 2015
COLUMBUS, Ohio - A lot of work goes into the production of fruit, vegetables and other fresh food sold at markets and grocery stores, and this summer Ohioans can get an up close and personal look at the process.

The Ohio Ecological Food and Farm Association (OEFFA) is sponsoring 15 tours and nine workshops during its 2015 Ohio Sustainable Farm Tour and Workshop Series.

Communications coordinator Lauren Ketcham says it's a unique experience for both adults and children.

"To see a tomato ripening on the vine in the field, or to be able to pull a carrot out of the ground and really tangibly see how that food gets from the field to their dinner table," she says.

Tours this year offer a variety of activities including the opportunity to walk in the footsteps of a shepherd, view organic dairy production and sample local meats, cheeses and preserves. As part of the series there will be a one-day Women Grow Ohio event at 17 locations, and a benefit dinner in the fall.

Ketcham says OEFFA has offered the tours for more than 35 years to give growers and non-growers the opportunity to learn about sustainable foods produced in Ohio communities.

"The more consumers know about how their food is grown the better prepared there are to make informed choices about who to support with their food dollars," says Ketcham. "The tours are a good way to gain this knowledge."

Ketcham says Ohio's sustainable farmers and producers use innovative practices and techniques, and during the tours they will share their experiences. She says the workshops allow folks to delve even deeper.

"Some of those topics this summer are going to include learning how to design and install your own solar photo voltaic system, small plot market farming, urban agriculture, dairy herd health, farm machinery," she says.

The Ohio State University Sustainable Agriculture Team and the Clintonville Farmers' Market are sponsoring additional tours.