AZ Ranks Low in Survey of Dad-Friendly States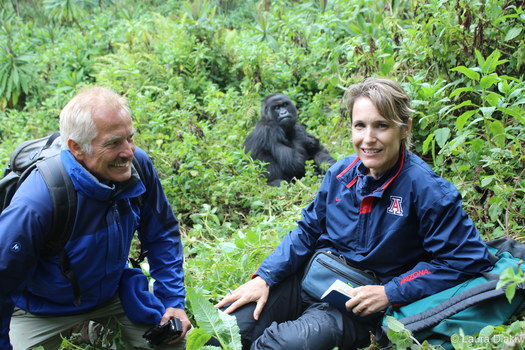 PHOTO: Their studies of animal behavior have taken Dieter and Netzin Stecklis around the world, and they use their research to inform their UA courses on fatherhood and families. Photo courtesy University of Arizona.
June 19, 2015
TUCSON, Ariz. - Arizona ranks 42nd in a national survey by state of important factors for working fathers, including health and child-care costs. WalletHub gives Arizona low ratings for economic and social well-being, and says the state has the highest number of dads with children younger than 18 living in poverty.

At the University of Arizona South, anthropologist Dieter Steklis said America has been slow in general to adopt workplace policies that allow men to balance home and family life, including flexible schedules and paid paternity leave. He said he thinks eventually that will change.

"Fathers are seen more and more as playing a vital role in their kids' lives, in their kids' development," he said. "Research on that has just really come to light only in the last 10, 20 years, max. So a lot of policy, therefore, hasn't caught up with that."

Steklis and wife Netzin Steklis, who also is an anthroplogist, are part of an online expert panel for this survey. They teach courses on fatherhood, and do primate research around the globe. They say that in the animal world, the males in only about 5 percent of the species play active roles in raising their offspring.

The Steklises point to one activity any father can do with young children that doesn't cost a penny and could make all the difference in their development. Netzin Steklis said getting on the floor and rough-housing with children teaches some valuable lessons.

"Parents at home, especially Dad, can be the big wrestling partner that starts training that little brain on how to regulate their emotions," she said, "not get too scared, learn how to pull the punches, learn how to react."

She noted that children today are discouraged from rough-housing with friends, so home often is the only place they can experience that kind of play. She said research shows mountain gorilla fathers also teach their young by rough-housing with them.

When children become old enough to shrug off the physical play, Dieter Steklis added, hugs and one-on-one conversations still are important, even in the busiest families.

"I think this is perhaps the key," he said. "Whatever time you have, be fully engaged. Make it clear to your child that your full attention, your full everything, is devoted in that moment to them."

The WalletHub survey is online at wallethub.com.