Independence Day: Tougher Times for Hungry Maine Veterans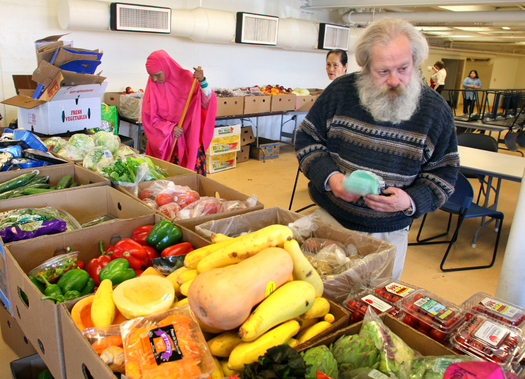 Hunger-fighting advocates in Maine say food pantries have been busier as a result of work requirements for SNAP benefits that they say can be particularly difficult for many veterans. Courtesy of Preble Street.
July 2, 2015
AUGUST, Maine - As Maine gets ready for Independence Day, local advocates say it's a good time to remember the more than 14,000 veterans in the state who must rely on federal benefits to put food on their tables.

Maureen Nagy supervisor veterans housing services with the advocacy group "Preble Street" says about 9,000 Mainers lost food assistance when new state rules took effect this year that require adults under age 39 to either be working or looking for work in order to receive SNAP.

She says that makes it especially tough on veterans coping with mental health issues and homelessness.

"Employment isn't always an option for a lot of different reasons - for mental health concerns, transportation is an issue," says Nagy. "A lot of our veterans live in rural areas, Maine is a very rural state."

According to the Center on Budget and Policy Priorities, one in 10 Maine veterans relied on SNAP to avoid going hungry for at least part of the year between 2011 and 2013.

Pat Baker, senior policy analyst with the Massachusetts Law Reform Institute, says while most people have been making summer plans, the House Agriculture Committee has been conducting a review of the Supplemental Nutrition Assistance Program known as 'SNAP.'

"We can't leave behind the people who've made those freedoms, defended them, and those are the veterans," says Baker. "Many of them fall on hard time, often they're struggling with homelessness, mental illness and they need the benefit as much as every other citizen in the country."

As the nation celebrates Independence Day, Baker says she hopes lawmakers who are evaluating the program keep in mind that one in five households that visit food pantries includes a low-income veteran or current U.S. service member.

"We are worried that the SNAP program is being looked at as a potential funding source for either tax cuts or other programs," says Baker. "This is absolutely the most essential program, and the first-response to hunger in the country."

While the timetable for any action in Congress is hard to predict, Baker says the anti-hunger community is being vigilant and will continue to stand firm against SNAP program cuts.