Sowing Their Oats: Iowa Farmers Return to Roots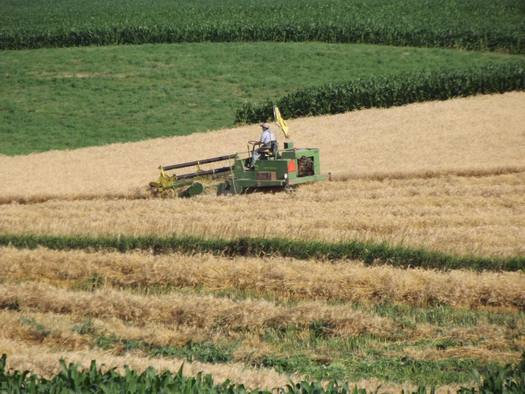 After a decades-long decline, barley, oats, rye and wheat are reemerging in Iowa...as important cover crops. Credit: Practical Farmers of Iowa.
July 21, 2015
JEFFERSON, Iowa – The summer harvest of small grains, many used as cover crops, is once again becoming a common sight across Iowa this time of year.

Iowa had nearly five million acres of small grains during the 1950s, and while that number has dropped over the decades, there has been a resurgence in recent years with the increasing popularity of using oats, wheat, rye and barley as cover crops.

Greene County farmer Bill Frederick is among those utilizing the practice.

"There's the obvious benefits of it keeping the wind and water erosion off of it just by holding that soil down, but I also think more organic matter equals more soil health," he says. "It helps with water retention and gives the microbes something to do all winter."

Frederick uses the small grain seeds for himself and to market to others in the area. He also grazes cattle on a cover crop mixture.

In addition to the positive impact on water quality and soil health, Frederick says cover crops also help with weed management in his corn and soybean fields.

"Especially where we have our three-year rotation where we're incorporating rye or wheat into it," he says. "It definitely mixes it up a little bit and the small grains really choke the weeds out. It's hard for anything to survive except for those small grains in there, so that's pretty nice."

Frederick harvested his wheat and oats last week, and once things dry he'll get out his combine for the rye.

Cover crops will be the focus of a field day at Frederick's operation south of Jefferson on Aug. 19, hosted by Practical Farmers of Iowa.
John Michaelson, Public News Service - IA