Wisconsin's Rank in Child Well-Being Survey May Be Deceptive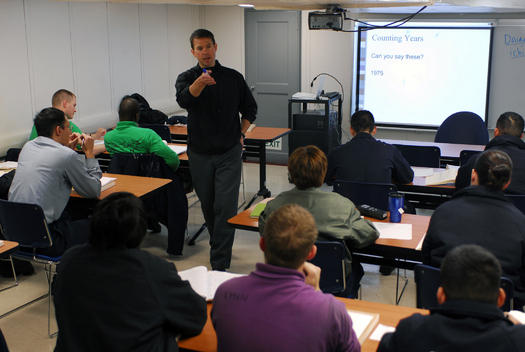 High quality education for all children is part of the solution to increase the well being of children in Wisconsin, according to the Wisconsin Council on Children and Families. Credit: U.S. Navy
July 27, 2015
MADISON, Wis. – A just-released report from the Annie E. Casey Foundation regarding the well being of children ranks Wisconsin 13th in the nation.

Last year's Kids Count report also had the Badger state ranked at number 13.

But Ken Taylor, the executive director of the Wisconsin Council on Children and Families, says the ranking needs a closer look, and that when you analyze the numbers, a somewhat different picture emerges.

"When we look at some of the underlying things for kids in Wisconsin, they're getting worse," he points out. "For instance, children in poverty: we're seeing more kids in poverty and our poverty rate for kids is growing faster than the nation as a whole."

Taylor adds there's plenty of data to show that the overall well being of Wisconsin's African-American children is the worst in the nation, and the well being of Asian children in Wisconsin is also in the bottom tier.

He says Wisconsin is also slipping well behind neighboring states of Minnesota, which is ranked first in the nation, and Iowa, which is ranked fourth.

According to Taylor, a report from his organization shows that while fewer than one in 10 Wisconsin white youth live in low-income neighborhoods, six in 10 African-American youth reside in those neighborhoods.

Taylor says that reality is reflected in the numbers in the new Annie E. Casey report.

"When we look at the well being of our white kids in Wisconsin, white kids do really well in our state," he maintains. "But when we look at the well being and the systems that support kids of color, they're near the bottom, and that's hidden in that overall high number 13 ranking."

To reduce poverty and racial disparities, Taylor agrees with the report's suggestion of the need to work on providing more good jobs that will support families.

"We need to make sure that kids are in high quality education – all kids in high quality education – but particularly those that are falling behind, and unfortunately, in our state that tends to be kids of color," he stresses. "And we need to connect the systems that support families and kids so that they're not working in opposition."

The new Kids Count report from the Casey foundation is online at AECF.org.



Tim Morrissey, Public News Service - WI