Chicken Farm Loses Contract After Abuse Uncovered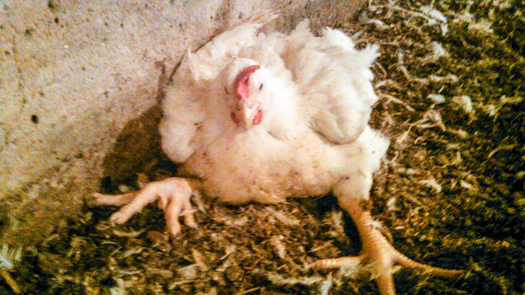 A Mercy for Animals investigation found chickens at a Dukedom, Tennessee, farm were bred to grow so quickly they became crippled under their own weight. Credit: Mercy for Animals.
September 1, 2015
DUKEDOM, Tenn. – A Tennessee chicken farm has lost its contract to provide chickens for McDonald's through Tyson Foods, after the chicken supplier announced it was terminating its contract with the farmer.

Late last week, the animal rights group Mercy for Animals released the results of an undercover investigation which it says documented the abuse of chickens at T & S Farm in Dukedom – located in western Tennessee along the Kentucky border.

Matt Rice, a Mercy for Animals spokesperson, describes horrific conditions.

"At this Tyson contract farm, chickens were treated like mere meat producing machines," he says. "From the day that they hatched, until they're violently killed, their short lives are filled with misery and depravation."

There was no answer at T & S Farm for comment on this story.

The video shot by the investigator, who was hired as an employee, shows birds being beaten and stabbed with clubs spiked with nails. A statement from McDonald's says it's working with Tyson Foods to further investigate the situation. The Weakley County Sheriff's Office said it has opened an investigation into the farm.

Rice says Mercy for Animals has conducted more than 40 investigations at factory farms across the U.S. Each time, as in this case, farms are chosen at random.

"Every single time, we've documented animal abuse," he says. "Which leads us to believe that animal abuse runs rampant in the factory farming industry, and we need more laws and stronger oversight from these companies that buy from these farms to ensure these animals aren't being abused."

According to Mercy for Animals, T & S Farms typically housed more than 120,000 chickens. According to the USDA, Tennessee ranks 11th in the country in terms of the number of slaughtered chickens annually.