Feds Set to Override Washington Water Quality Standards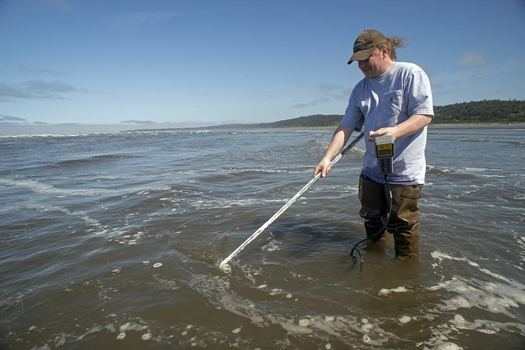 Scott Mazzone, a marine biologist with the Quinault Indian Nation, takes water quality samples. Credit: Debbie Ross-Preston, NW Indian Fisheries Commission.
September 8, 2015
SEATTLE - The Environmental Protection Agency (EPA) is proposing changes to the water quality standards for human health in Washington, after the state has spent years deciding how to create its own standards.

At issue are two key components of water quality, the fish consumption rate and the cancer risk rate, because both influence the allowable amounts of toxic chemicals in water.

The EPA and state both agree that a higher fish consumption rate accurately reflects the Northwestern diet, but they differ on an acceptable cancer risk rate. Tyson Johnston, vice president of the Quinault Indian Nation, says the Tribes have been backers of tougher standards all along.

"It's more than an environmental and tribal issue; this really comes down to keeping people healthy," says Johnston. "At the end of the day, that should be the driving force, and keeping people alive and realistic about how much fish they consume every day."

The water quality standards, known as human health criteria, are part of the federal Clean Water Act. The EPA says the standards are intended to limit a person's total exposure to known cancer-causing chemicals.

Chris Wilke, executive director with Puget Soundkeeper, explains the state elected to increase the cancer risk rate, which didn't sit well with environmental groups or the Tribes.

"The fact that there is reliable data that shows people are eating a higher amount of fish points to the fact that the water quality standards need to be revised," says Wilke. "That's what EPA has done; it's saying that to preserve our fisheries, we need to reduce pollution to these levels."

The EPA is set to enter the proposal into the Federal Register and begin a public comment period on it this month. But the agency says it's still willing to consider new criteria from the state.

The Washington Department of Ecology had a draft ready in January, but didn't finalize it when the Legislature would not agree to crack down on toxic chemical use in industry.