AZ Immigration Advocates Fast to Protest Court Delays on DACA, DAPA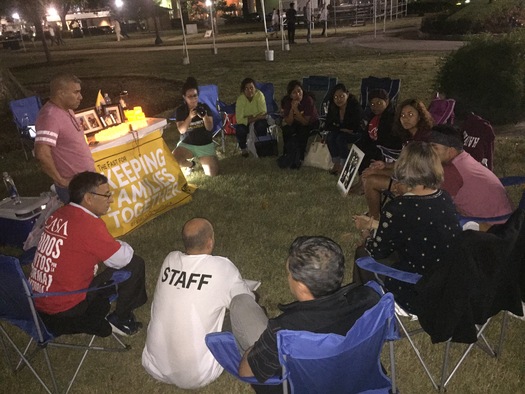 Immigration advocates are fasting in New Orleans over court delays to DACA/DAPA. Credit: Fair Immigrant Rights Coalition
October 22, 2015
PHOENIX – Petra Falcon is growing weaker.

Today is the last day of her nine-day fast – no food, only water.

She's part of a group that is fasting and camping out on the steps of the federal courthouse in New Orleans to pressure a three-judge panel on the Fifth Circuit Court of Appeals to make a decision on DACA and DAPA, federal programs that would grant temporary work permits to certain undocumented children and their parents.

Falcon, executive director of the immigration advocacy group Promise Arizona, says she's desperately trying to bring attention to the issue.

"So we're just trying to get DACA/DAPA implemented as quickly as possible so that we can stop the pain and suffering that is happening to families," she states.

In 2014 President Barack Obama issued an executive order that would have protected millions of undocumented immigrants from deportation, which can tear mixed-status families apart.

But 26 states, including Arizona, filed a lawsuit, and a Texas court put the programs on hold. Now it's up to the Fifth Circuit.

If the judges rule soon, the case would be eligible for appeal to the Supreme Court this year.

But Falcon says if the justices continue to delay, ultimate resolution could have to wait another year.

"This panel of judges were Bush appointees," she points out. "Absolutely, they are delaying on purpose. It's about winning through politics. It's not about winning in humanity. It's not about solving a problem."

Meanwhile tonight supporters in Phoenix are holding vigil at a community soup dinner in solidarity with those fasting in New Orleans.

According to the Department of Homeland Security, there are 11 million undocumented immigrants in the United States.



Suzanne Potter, Public News Service - AZ