NV Communities of Color Want Say in Clean Power Plan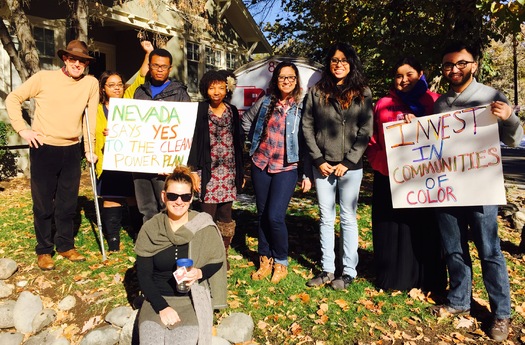 Local advocates say they will be out in force at the Clean Power Plan hearing in Carson City. They say the plan needs to allocate jobs and other benefits to local communities of color, because they suffer some of the worst consequences of carbon pollution. Courtesy: Progressive Leadership Alliance of Nevada
November 12, 2015
CARSON CITY, Nev. - There will be plenty of focus on the environment at today's Stakeholder Meeting on the Clean Power Plan, but local advocates say attention also needs to be paid to carbon pollution's impact on communities of color.

A.J. Buhay, field organizer with the Progressive Leadership Alliance of Nevada, says minorities are always hit first, and hit worst with the effects of climate change. He says that's why they should be specifically targeted for jobs and job training as the state enacts the Clean Power Plan.

"There's are a lot of jobs that the Clean Power Plan can bring and we want those jobs targeted for communities of color as we move into a just transition with clean energy," says Buhay.

The PUC is holding a Stakeholder Meeting today in Carson City with a video link in Las Vegas. Buhay says in addition to targeting minority communities, the plan also needs to include funding for retraining and retiring workers who worked in coal-powered jobs.

Buhay says both African American and Latino children are more likely to suffer from asthma in the Silver State and as a result they are more likely to suffer negative impacts from carbon pollution that affect more than just their health.

"Asthma is the leading cause of absences when it comes to kids attending classes," says Buhay. "So there's really a disproportionate impact on people of color in my community, when it comes to climate change."

Buhay says PLAN is among the groups in support of a carbon tax that lawmakers could impose in Nevada with a significant portion of revenue targeted to communities of color.