Family Involvement Key to a Child's Education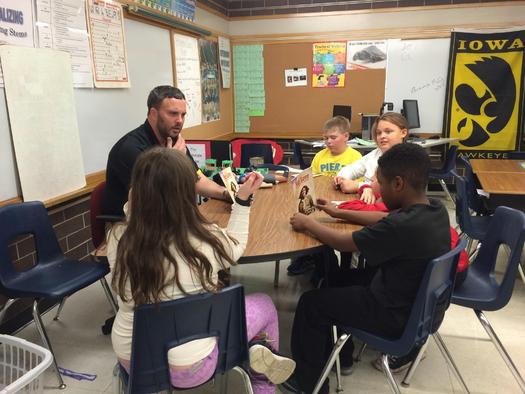 Matt Brem is a fifth-grade teacher at Pierce Elementary School in Cedar Rapids. Courtesy: Iowa State Education Association
November 20, 2015
CEDAR RAPIDS, Iowa - This is American Education Week, to honor all the people it takes to provide a quality education to students.

Iowa State Education Association president Tammy Wawro of Cedar Rapids said it's important to recognize the critical role of schools in society.

"I think it's just a wonderful way for us to remind everyone that the public school that we have in our nation is what brings our students together, it brings our families together, and it is the pillar of all of our communities," she said.

American Education Week, which began in 1921, wraps up today by highlighting the work of substitute teachers.

Wawro said a good education requires the involvement of family members, but economic pressures make that more difficult today.

"It is imperative that our families are involved in our kids' education, and it's getting harder and harder," she said. "We jump back and forth here in Iowa, being number one or number two in the nation of those parents working, and that makes it very difficult for our families to be involved in school."

She said wraparound programs, including a healthy breakfast and high-quality after-school activities, also help create a positive learning atmosphere for students.

Many schools invited citizens to be "Educator for a Day" yesterday (Thursday). Almost 20 classrooms were taught by community members who got the real-life experience of what it's like to be a classroom teacher. Wawro describes some of the challenges.

"Keeping that student at the center of the conversation, while they're figuring out who had breakfast and who didn't, and who got their homework done because they had Internet at home," she said. "So, they have to figure out how they help them do that work at school, while they don't embarrass them in front of other students."

She said she also believes teachers should have a greater voice in developing curriculum, since they often know best how to teach their classes.

More information is online at isea.org.
Jeff Stein, Public News Service - IA